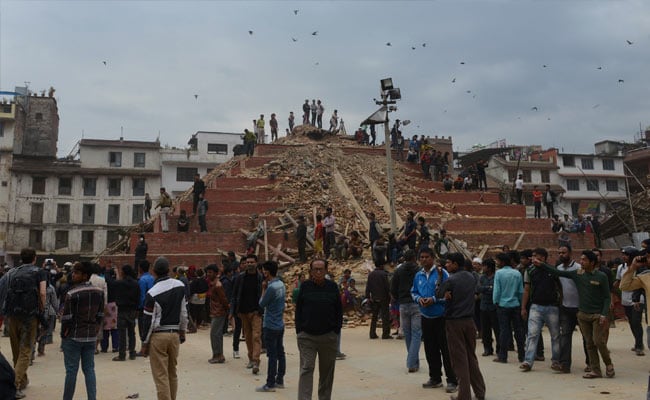 Over the weekend, Nepal was shattered by an earthquake that registered 7.9 on the Richter scale and left in its wake a trail of unimaginable destruction and loss. Among the images emerging from a country in ruins are those of some of the city's iconic temples and heritage sites, all reduced to rubble.

The pictures below, taken before and after the disaster, are a chilling barometer of just how unforgiving nature can be.

Dharahara Tower: The 19th-century nine-storey tower was razed practically to the ground in the earthquake. The image on the right shows the 50.5-metre-high historic tower as it is now. The picture on the left was taken in 1998.



Photo Credit: AFP
Durbar Square:
One of UNESCO's World Heritage sites, the Durbar Square was the royal palace of the former Kathmandu Kingdom. Now, there's almost nothing.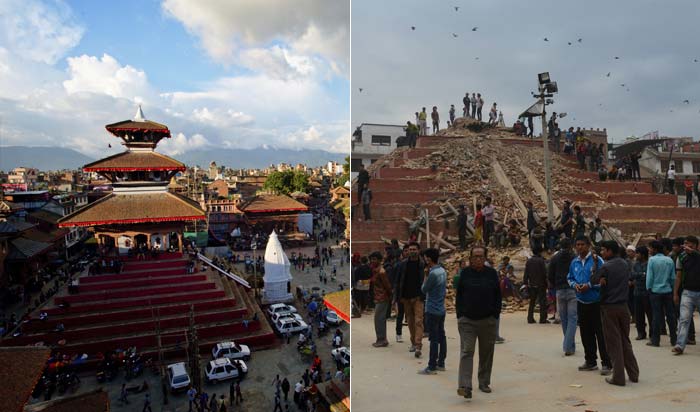 Photo Credit: Thinkstock and AFP
Garuda Statue at Durbar Square:
The statue itself has survived relatively unscathed, which serves to underline how much the temple and surrounding area have suffered.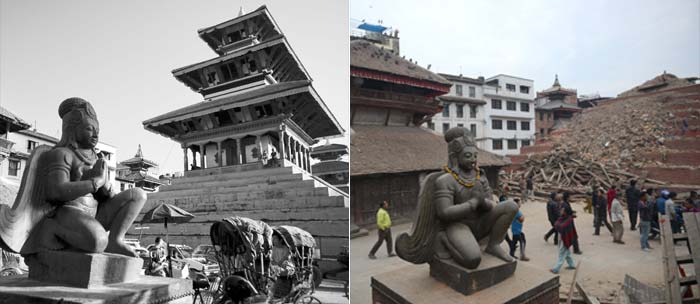 Photo Credit: Wikimedia Commons and AFP



Swayambhunath Complex: Also known as the Monkey Temple, the ancient religious complex is now little more than dust.

Before & after images of Swayambhunath Stupa. How prepared is #Bangladesh for such a disaster? #PrayForNepalpic.twitter.com/qfVDw2qaEM

- Musavvir Ahmed (@musavvir) April 25, 2015

Bhupatindra Malla: Bhaktapur town was among the worst affected areas. The images here show the startling change in the landscape.

Patan Durbar's Bhupatindra Malla statue pillar before i have taken on my vacation time & after this afternoon. #Nepalpic.twitter.com/WydJWFaURK

- Roshan Karki (@roshankarki5) April 25, 2015

Gaddi Durbar: The post-quake picture shows a complete wipe out of the temple in Bashantapur Durbar Square.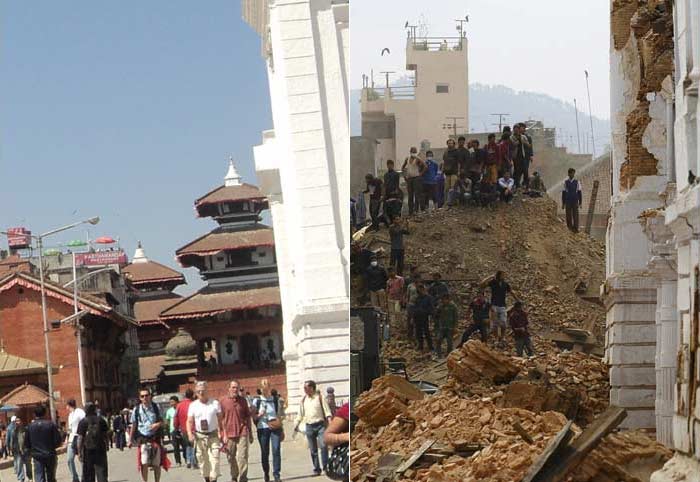 Photo Credit: Wordpress/nirjanasharma and AFP