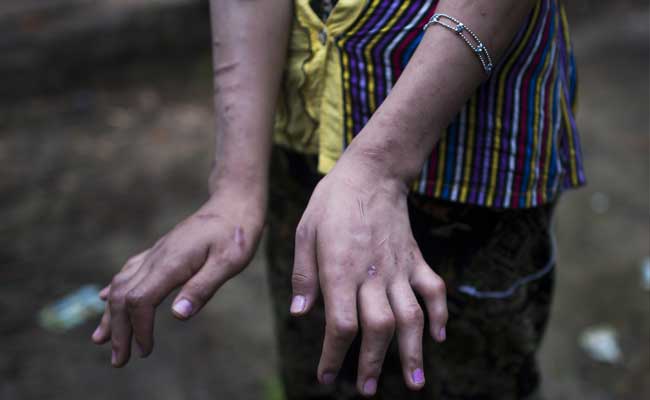 Baw Lone Kwin village:
San Kay Khine stares at her burnt, scarred hands, her twisted fingers a reminder of her years as a child slave in Myanmar, one of thousands of young domestic workers feared to be at risk of exploitation and abuse.
The 17-year-old was rescued from a tailor's shop in Yangon this month where she and another girl from her village spent five years as housemaids.
There they were allegedly beaten, cut with knives and deprived of sleep and food by the shop owner and her family -- all for an occasional few dollars thrown their way.
The pair are among tens of thousands of children from poor rural areas sent to work as domestic helpers for the country's growing pool of wealthier, urban middle-class households.
Enticed by promises of jobs that can support their families, rights groups say they are at high risk of abuse.
But the issue is under researched in a impoverished country where the justice system favours the wealthy.
San Kay Khine, whose fingers have set at strange angles after being broken by her captors, remains too traumatised to talk about what happened, only whispering that she wants to stay at home.
Instead, it is left to 16-year-old Thazin to give details of the suffering they shared at the tailor's shop.
"I have a scar from where an iron was stamped on my leg and a scar on my head as well," she told AFP at her home village, a few hours drive from Yangon.
"This was a wound from a knife, because my cooking was not OK," she said, showing a mark on her nose.
Like many child workers, the pair were brought to Yangon by a friend from the village who promised to find them good jobs.
After years of failed rescue attempts by their families, who twice confronted the owners but were rebuffed, they were freed when a local journalist alerted the national human rights commission.
The shop owner and her two adult children were arrested this week over the allegations and charged with human-trafficking.
'Really Afraid'
Despite their arrest, San Kay Khine's mother remains scared of revenge by the tailor's family.
"I am really afraid," Nyo Nyo Win, 32, said outside the small bamboo and thatch hut where she lives with her three other children. "I cannot eat or sleep."
"They said they would send us to jail by accusing us of stealing things from them."
Tackling child labour is a key challenge for Myanmar's new democratically elected government as it seeks to reform the country after half a century of brutal military rule.
The impoverished country is the world's seventh-worst for child labour, according to risk analysts Verisk Maplecroft, just ahead of India and Liberia.
One in five children aged 10-17 are working -- around 1.7 million people -- according to a UN analysis in 2014 census data.
Most come from poor, displaced communities in areas scored by ethnic insurgencies or regions hit by natural disasters.
Many can be seen quietly clearing tables in Yangon's tea houses and roadside cafes, or helping bar owners late into the night.
Thousands more make up an invisible workforce behind closed doors.
'Most Vulnerable'
"They are the most vulnerable," said Aung Myo Min, executive director of Equality Myanmar, an NGO that helps former child workers.
"Many of the children live in fear. They feel valueless. They have lost their childhood and they can't get it back," he said.
Horrific recent cases of abuse have cast a spotlight on the conditions of Asia's migrant domestic workers, including of an Indonesian maid who was tortured for months by her Hong Kong employer.
Myanmar temporarily banned its women from going to work in Singapore and Hong Kong after the case hit the headlines in 2014 over concerns they would be vulnerable to abuse and exploitation.
Inside the country, however, child helpers have no legal protection and many fear going to the police.
"There is so much corruption in our country, the owners give money to the police to look the other way," said Aung Myo Min.
San Kay Khine and Thazin's families say the police did nothing despite their repeated appeals for help to free the girls.
In the end, they were paid a total of around $4,000 in compensation by the tailor's family.
San Kay Khine's mother, Nyo Nyo Win, said she will never let her daughter go away to work again.
"I'm not going to send her anywhere," she said. "I will keep her at home."