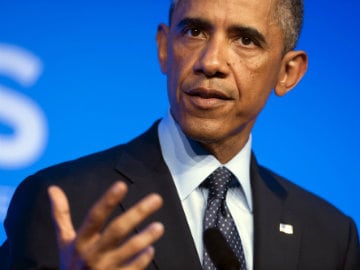 Washington:
US President Barack Obama stepped up his bid to convince Americans he has a plan to defeat the Islamic State, meeting top congressional leaders and scheduling a primetime speech for today.
Obama will summon the symbolic weight of a televised address to the nation at 9:00 pm (0100 GMT Thursday), speaking from the ceremonial state floor of the White House.
The speech will attempt to redress criticism that he has been slow to respond to the militant group's seizure of a haven in Syria and Iraq, amid fears fighters armed with Western passports could train their sights on the US homeland.
Obama will enlist public support for a new military venture abroad at a poignant moment -- the eve of the 13th anniversary of the September 11 attacks, which pitched America into a Middle East conflagration he has spent much of his presidency trying to escape.
Obama has consistently said though that there will be no ground troops in Iraq, and that is not expected to change.
"The president will lay out what he clearly sees as American interests in this situation," White House spokesman Josh Earnest said in his daily briefing on Tuesday.
"He'll talk about the risks that the United States faces, and he'll talk about the strategy that he has put together to confront those risks, to mitigate them, and ultimately to degrade and destroy ISIL," he said, using an alternative acronym for IS.
Earnest would not say whether the president will announce he intends to expand US air strikes against IS targets in Iraq into the group's stronghold in Syria.
While Obama is expected to prepare Americans for a prolonged engagement with IS, he will not establish a definite timeline for action, Earnest said.
Under pressure
Obama met the bipartisan leadership of the House and Senate in the Oval Office to discuss his plans, which officials say will involve a broad international coalition and efforts to choke off IS funding and the flow of foreign fighters to the group, as well as military action.
A White House statement said that Obama told the leaders that despite his desire to work with Congress, he had all the authority he needed for the operations he was planning against IS.
Senior lawmakers are divided on whether the president does indeed have the necessary powers to wage what will effectively be a war against IS using existing anti-terrorism legislation.
Obama has warned that he will likely ask for more money to finance the campaign, which senior officials say could outlast his presidency, which ends in January 2017.
The Obama administration rejects claims by Republican critics and a rising number of Democrats that it has been sluggish confronting the threat from IS, which has beheaded two US journalists.
Obama's political position has been undermined by his own public missteps, including his admission two weeks ago that he did not yet have a strategy to take on IS in Syria.
Shifting public opinion
The White House has consistently underlined that a key prong of its plan is the installation of an "inclusive" government in Iraq, after blaming the ex-prime minister Nuri al-Maliki for fostering sectarianism that led to the rise of IS.
It therefore welcomed the debut on Monday of a new administration in Baghdad under Prime Minister Haidar al-Abadi as an important sign of progress.
Secretary of State John Kerry arrives in the Middle East on Wednesday to accelerate Washington's efforts to build an international coalition to confront IS.
Obama, who built his presidency on disengaging from wars in Iraq and Afghanistan, and on avoiding "stupid" new misadventures overseas, has long been loath to intervene in Syria's civil war.
But he has sent signals in recent days he will intensify aid to the Free Syrian Army rebels, in an apparent bid to ensure that a vacuum left by a potential degrading of IS will not boost Syrian President Bashar al-Assad.
Public opinion in the United States appears to be shifting in favor of a limited intervention in Syria.
A Washington Post/ABC News poll published on Tuesday found that nine in 10 Americans saw Islamic State as a serious threat. Some 71 percent backed air strikes in Iraq and 65 percent agreed with extending air strikes into Syria.