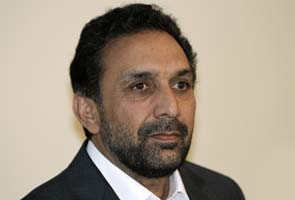 Kabul:
Prominent Afghan opposition leader Ahmad Zia Masood has urgent advice for President Barack Obama in his second term - clean up Afghan politics before the next election or risk civil war.
Masood said a number of factors could trigger another internal conflict after most NATO combat troops leave at the end of 2014, including growing fears of another Taliban takeover.
Most importantly, Obama must focus on ensuring that a 2014 election is free and fair after President Hamid Karzai's re-election in 2009 was blighted by allegations of fraud.
A marred poll could be the tipping point in a country where frustration is growing over corruption, poor governance, dilapidated infrastructure and high unemployment, said Masood.
"On top of all these problems if the election is rigged then the people will lose patience and that opens up the door for a massive civil war," said Masood, leader of the National Front of Afghanistan, a major opposition party.
"If the political process is transparent here there won't be a reason for a civil war. We expect Obama to pressure the government for a free and fair election."
Opponents of Karzai, who is constitutionally barred from seeking a third term, are worried he is trying to install an ally or relative as his successor to maintain a grip on power.
Karzai has suggested foreign members be removed from the election watchdog, a step that could be seen as bolstering his influence. Karzai says he is committed to democracy.
The president's older brother, businessman Abdul Qayum Karzai, has said he is interested in running for president.
There is also widespread speculation that Abdullah Abdullah, a former foreign minister who opposed Karzai in the 2009 poll, will make another bid.
Masood's party brings together some former leaders of the Northern Alliance which toppled the Taliban.
They include ethnic Uzbek General Abdul Rashid Dostum, who earned a reputation for brutality in Afghanistan's last civil war following the Soviet withdrawal in 1989 and after the Taliban were toppled in late 2001.
Dostum has influence in several northern provinces where hundreds of thousands of ethnic Uzbeks live. Masood, an ethnic Tajik and former vice president under Karzai, is also allied with the ethnic Hazaras who hold sway in central Afghanistan.
Masood has wide respect among former Northern Alliance commanders because he is the brother of Ahmad Shah Masood, the hero of the 1980s war against the Soviets, and later a fierce opponent of the Taliban who was killed by al Qaeda militants two days before the September 11 attacks on the United States.
PESSIMISM
He said fair elections must be held to boost confidence that democracy can hold the country together and discourage the Taliban from trying to take over again after most NATO combat troops leave by the end of 2014.
The government's peace discussions with the Taliban have yet to produce major breakthroughs and any successful deal would have to include a wide range of groups.
"If Obama wants to, he can make the elections free and fair," said Masood. "Every case of fraud in the election will take the country towards instability and the whole nation will rise up. This is not advantageous for the international community."
Water and Energy Minister Ismail Khan, also a prominent anti-Soviet commander, recently called for the formation of a council to bring together the former commanders of the anti-Soviet mujahideen as doubts grow over the effectiveness of government forces ahead of 2014.
The government says security forces have made substantial progress and the Taliban have no chance of seizing power.
"If the Taliban take over militarily and if the elections are rigged in 2014 the consequences will be a massive civil war," said Masood, sitting in the living room of his Kabul home protected by high walls and armed guards.
"After 2014, the Taliban will definitely put their strength on display."
© Thomson Reuters 2012