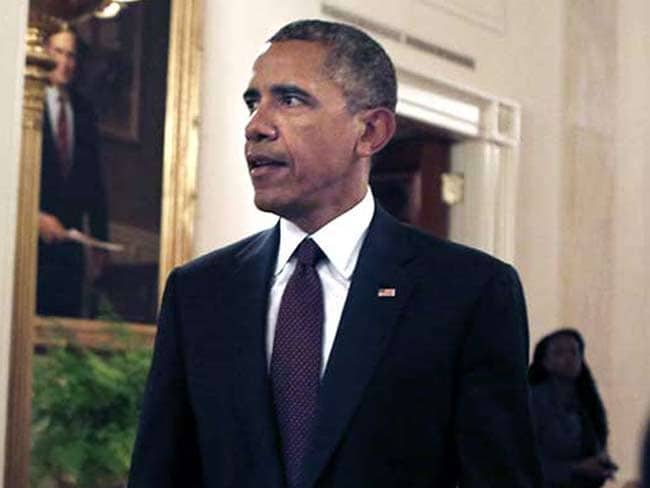 Washington:
US President Barack Obama has lamented the slow progress in combating the threat posed by climate change as he discussed global warming and pressing environmental issues with celebrated British naturalist Sir David Attenborough.
Mr Obama invited Mr Attenborough to the White House for a televised discussion to celebrate Attenborough's 89th birthday last month.
53-year-old Mr Obama is a fan of Attenborough, who has created and narrated numerous science and nature documentaries for the BBC.
While at the White House, the two taped an interview, in which Mr Obama turned the tables and interviewed Mr Attenborough, telling him that he grew up watching his programmes.
In the interview, to be broadcast simultaneously in the UK and US on BBC and BBC America later today, Mr Obama tells Attenborough: "I've been a huge admirer of your work for a very long time. You've been a great educator as well as a great naturalist."
The two discussed climate change, and Mr Obama lamented what he sees as slow progress toward combating the issue.
"We're not moving as fast as we need to, and part of what I know from watching your programmes, and all the great work you've done, is that these ecosystems are all interconnected," Mr Obama, whose country is the world's second largest emitter of carbon dioxide after China, said.
"If just one country is doing the right thing, but other countries are not, then we're not going to solve the problem. We're going to have to have a global solution to this," he said.
Mr Obama told Attenborough that children are "much more environmentally aware" than adults, citing his daughters Malia, 16, and Sasha, 13, as examples.
"They do not dispute, for example, the science around climate change," Mr Obama said.
Mr Obama then asked Mr Attenborough what he thinks needs to be done in the fight against climate change.
"If we find ways of generating and storing power from renewable resources, we will make the problem with oil and coal disappear because economically, we'll wish to use these other methods," Mr Attenborough said.
"If we do that, a huge step will be taken in solving the problems of the Earth. I think what's required is an understanding and a gut feeling that the natural world is part of your inheritance. This is the only planet we've got and we've got to protect it. And people do feel that, deeply and instinctively, it is after all where you go in moments of celebration and in moments of grief."
Mr Attenborough, a Cambridge-educated naturalist, has been creating and hosting science and nature-related programming since 1954. His shows have won numerous awards, and he has become a vocal environmentalist. He is known for his distinctive voice as a narrator.
The Guardian reported Mr Attenborough said Mr Obama's invitation to him was "a considerable surprise."