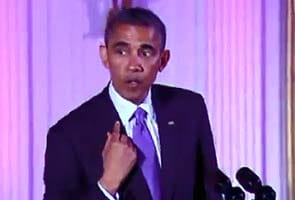 Washington:
US President Barack Obama joked about a lipstick stain on his collar during a White House event, saying that he is explaining the red mark on his shirt to avoid trouble with the First Lady.
Mr Obama was speaking during a reception he had hosted for the Asian American Pacific Islanders (AAP), which among others was attended by a number of eminent Indian-Americans.
(Watch how Barack Obama explains lipstick stain on his shirt collar)
After greeting the almost 300 in the audience with "Aloha," Obama praised the warmth of their welcome.
"A sign of the warmth is the lipstick on my collar," Mr Obama said drawing huge laughter. He blamed the aunt of Jessica Sanchez, the runner-up in the 11th season of American Idol, for the mark.
"I have to say I think I know the culprit - where is Jessica Sanchez? Jessica - it wasn't Jessica. It was her aunt. Where is she? Auntie, right there. Look at this. Look at this," Mr Obama said making sure everybody could see the offending mark.
"I just want everybody to witness. So I do not want to be in trouble with Michelle. That's why I'm calling you out right in front of everybody," Mr Obama said.