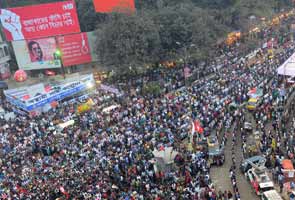 Dhaka:
Bangladesh has shut down a blog site after it was linked to the murder of a anti-Islamist blogger who helped organise protests against the leaders of the largest Islamic party, officials said Sunday.
Blogger Ahmed Rajib Haider, 35, was hacked to death near his home in the capital Dhaka Friday night after he joined a huge protest demanding the execution of Jamaat-e-Islami party leaders who are on trials for war crimes.
Police have yet to comment on a possible motive, but his brother said Haider was targeted by Jamaat's student wing for his online activities. Fellow blogger Shakil Ahmed said a pro-Jamaat website had last week named Haider as a target.
Jamaat issued a statement Sunday condemning the murder and said neither it nor its student wing had anything to do with the crime.
Officials of the telecoms regulator told AFP that the Sonar Bangla blogsite had been shut down since Saturday for spreading "hate speech and causing communal tension".
"It's been closed down," vice president of the regulator Giasuddin Ahmed told AFP.
Demonstrations championed by online activists have seen thousands take to the streets for the last two weeks demanding the execution of Jamaat leaders accused of genocide, murder and rape during the 1971 war of independence from Pakistan.
Family and friends said Haider played a key role in organising the protests and had an argument with Jamaat supporters just days before the murder.
At least 50,000 people joined Haider's funeral late Saturday at the Shahbag intersection in central Dhaka, where protests have been staged against the Islamist leaders since February 5.
The protesters have vowed they will not leave unless Jamaat and its student wing, Islami Chhatra Shibir, are banned and Haider's killers are found.
Prime Minister Sheikh Hasina visited Haider's home and indicated that she would back a ban on Jamaat as it had "no right to be in politics in free Bangladesh".
Rival protests by Islamists demanding a halt to what they say are "politically motivated" trials of Jamaat leaders including its chief and deputy chief have turned violent across the country, leaving 13 people dead.
The killing on Friday was the second attack in Dhaka against a blogger critical of Islam and Islamist groups in less than a month, after the stabbing of a self-styled online "militant atheist" by three unidentified men.