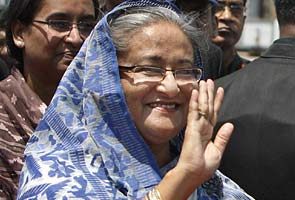 Dhaka:
Bangladesh Prime Minister Sheikh Hasina today pledged stern action against people found guilty of defaming Islam using the internet as right-wing Islamic parties threatened to wage an intensified street campaign against "atheist bloggers".
"You (Islamic parties) do not need to go for any movement. As a Muslim, I have the responsibility to take action," Hasina said at a party meeting of her ruling Awami League, this evening.
She added, "We have already decided what action to be taken against those responsible for (internet posts and blogs) hurting people's religious sentiments."
The premier's comments came days after newly-emerged Hefazat-e-Islam announced a long march towards the capital Dhaka on April 6 to protest against "atheist internet bloggers".
Bangladesh authorities had earlier banned the YouTube website to prevent the viewing of a video allegedly insulting Prophet Mohammad which sparked worldwide protests late last year.
In February, they shut down 12 blogs and Facebook pages for carrying out "malicious publicity" by suspected Islamists as several radical leaders faced trial for crimes in 1971 war.
The Jamaat-e-Islami (JI) and several other Islamist outfits have been alleging that youngsters and "anti-Islamic bloggers" were defaming Islam while the bloggers' movement has demanded tough punishment for the accused in 1971 war crimes.
The youngsters had earlier rejected the Islamists' allegation, calling it an effort to thwart the war crimes trial.