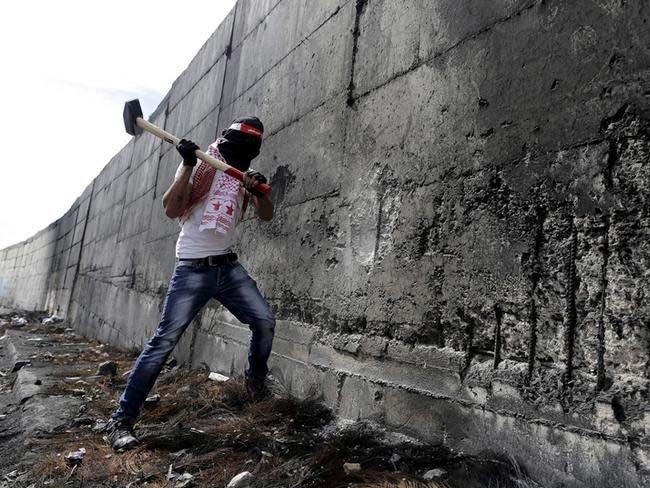 Jerusalem:
A month ago, you couldn't get a table in Abu Shukri's hummus restaurant. Tucked in a backstreet of the Old City, off the Via Dolorosa, the place has long been regarded as the best hummus joint in the Holy Land.
But on Oct. 2, yards from Abu Shukri's front door, a Palestinian law student stabbed and killed two Israelis, one of the first attacks in a wave of violence that has left 11 Israelis and 61 Palestinians, including 34 assailants, dead.
While wary tourists are still wandering the narrow streets, they are doing so in fewer numbers. There were noticeably smaller crowds gathered this week in the ornate interior of the Church of the Holy Sepulchre, site of Jesus's crucifixion.
Anxious Israeli police and soldiers are stationed at regular points, standing with their backs pressed to the ancient walls. Arab merchants are not opening their stores, worried about the security clampdown and the fact customers are staying away.
Outside Abu Shurki's, there is now a police checkpoint. Earlier this week, five young Arab men were stopped and searched by the police, many of whom have been the target of stabbings.
Inside the restaurant, tables are free.
"The situation is bad, as you see," said Murad Feltis, 32, a Christian Arab construction worker who lives in the Old City.
"You have to walk in town with your hands open," he said, so that Israeli soldiers can see that you are not carrying a knife. "After sunset you must not be home late because this place turns into a city of ghosts."
Shopkeepers in the Old City, which is divided into four quarters - Muslim, Christian, Armenian and Jewish - always complain about business. Long outbreaks of violence wrought havoc, including the intifadas, or Palestinian uprisings, that lasted from 1987-1993 and 2000-2005.
The situation now is not as terrible as in the past, but it is headed in that direction, merchants and residents say.
Israel's stepped-up security, which includes blocking off access to the rest of Jerusalem from Arab neighbourhoods in the east, is keeping shoppers away. More than 300,000 of Jerusalem's 800,000 population are Palestinian, many of whom descend on the Old City at some point during the week.
Habib Hroub, who owns a souvenir shop in the Muslim quarter, where tea shops and fruit stalls stand next to hidden mosques and ancient monuments, said the security was crippling the tourism business. "So far I have sold nothing. I did not make even one shekel," he said this week.
He accused Israeli police of harassing Arab shopkeepers, including telling them to replace Arabic signs with Hebrew ones, and said he hoped the surge in violence, which some Palestinians have dubbed a "knife intifada", would continue.
"Otherwise our conditions will not improve," he said.
CLOSE QUARTERS
A focus of Palestinian anger has been over the Al-Aqsa mosque compound in the Old City, a sacred site also revered by Jews as the location of two ancient temples. In the winding alleyways of the Muslim quarter, nearly all streets ultimately lead to vast doorways opening onto the marble compound.
Muslims are upset by what they see as increased Jewish encroachment on the area, with more ultra-nationalist and religious Jews visiting under the protection of Israeli security forces, including ministers in Benjamin Netanyahu's government. While non-Muslims and tourists are permitted to visit, they are forbidden to pray.
Essam al-Zagheer, the owner of a spice and herb store, said the visits were the heart of the problem, which had ultimately led to Palestinian frustration and violence, Israel's security clampdown and the knock-on impact across the Old City.
"People's patience has limits and then they explode," he said. "Things here will never calm down."
With Arabs and Jews rubbing shoulders in the Old City's streets on a daily basis, both communities are on edge. Jews fear a random stabbing, Arabs fear being singled out by Israeli police, who have shot dead many alleged assailants. In the cramped and usually bustling streets, mosques, churches and synagogues are often only a stone's throw from each other.
Locals say they are keeping their children indoors. Feltis, the construction worker, takes time off to escort his daughter to school and back each day. The tense situation reminds him of periods of unrest in the past.
"My deceased father told me 20 years ago that nothing would change in this city, and nothing did," he said.
© Thomson Reuters 2015