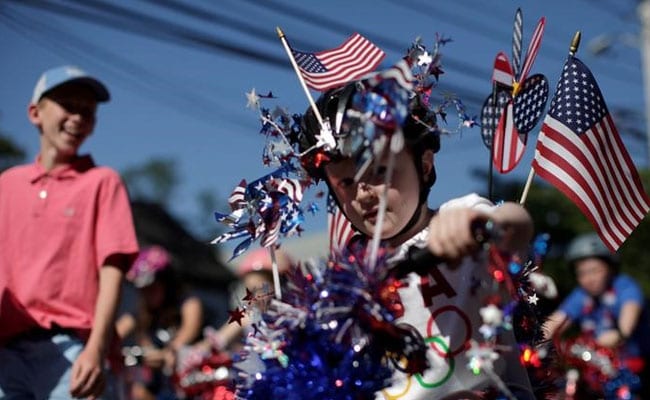 From fireworks soaring above the Washington Monument to hot dogs being downed in New York City's famed frank-eating contest, Americans aren't shy about celebrating their nation's birthday. Many places are rolling out long-established Independence Day traditions on Monday (even if some of those traditions aren't as long-established as they sound). Some communities are trying new things to mark the holiday, even as others are paring back. Some Fourth of July highlights from around the country:
In The Nation's Birthplace, A Parade And A Parkway Party
In Philadelphia - where the Founding Fathers approved the Declaration of Independence on July 4, 1776 - the national birthday party runs all day.
It kicks off at 10 am with a reading of the document and an event honoring everyday heroes, with celebrity guest Leslie Odom Jr, a Philadelphia native who plays Aaron Burr in the Broadway musical "Hamilton." Then comes the holiday parade, which includes Miss America 2016 Betty Cantrell.
Next up is a five-hour party with free entertainment on the Benjamin Franklin Parkway. The celebration continues with a five-hour concert with performers including Odom and singer-songwriter Leon Bridges. Fireworks close out the day.
A Final White House Fourth For The President
It's the last Fourth of July at the White House for President Barack Obama and his family, and they're having some people over: military families and two of the president's favorite performers, singer-songwriter Janelle Monae and rapper Kendrick Lamar.
The Democratic president and his wife, Michelle, invite military families each year for a barbecue, concert and view of the fireworks on the National Mall.
This year, they'll also hear Lamar - Obama said his favorite song of 2015 was the rapper's "How Much a Dollar Cost" - and Monae, who was a guest at a White House state dinner in May.
For a second straight year, rainy weather forced the cancellation of the annual Fourth of July picnic and fireworks watch at the White House. Lamar and Monae will perform indoors, in the East Room.
New York: Franks And Fireworks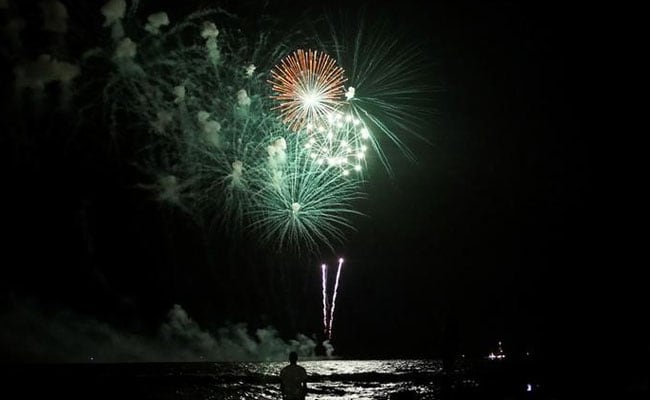 American as apple pie? Fuhgeddaboudit. The frankfurter rules the Fourth in New York City, where the annual Nathan's Famous hot dog eating contest marks its centennial this year - well, not really. Nathan's itself dates to 1916, but showmen behind the hot dog competition have acknowledged they made up a long-told story about the contest beginning that year, too. It actually started in the 1970s.
Joey "Jaws" Chestnut beat his own world record on Monday when he polished off 70 hot dogs and buns in 10 minutes. He also regained his title after losing the Mustard Yellow International Belt to Matt "The Megatoad" Stonie in 2015. "Last year was rough," Chestnut told the crowd. "This year was the best ever."
Later Monday, Macy's is promising its biggest Fourth of July fireworks display since the millennium show of 2000. The show over the East River features more than 56,000 pyrotechnic shells, 22 hues and the New York debut of "pyro-writing" in the sky, all synchronized to patriotic tunes performed by the United States Air Force Band. The fireworks are televised on NBC, along with performances by country singer Kenny Chesney, pop band 5 Seconds of Summer, pop singer Meghan Trainor and others.
Boston's Blowout
Hundreds of thousands of people are expected to line the banks of Boston's Charles River to watch the fireworks there, with millions more across the country watching live on CBS.
The celebration features pop stars Nick Jonas and Demi Lovato, country group Little Big Town and, as always, the Boston Pops Orchestra, which drives home the climactic fireworks finale to Tchaikovsky's "1812 Overture."
One Connecticut City's New Celebration; Another Cancels Its Own
New Haven's newly renovated Q Bridge will be illuminated in red, white and blue at night, becoming Connecticut's first bridge to feature commemorative lighting.
The lights are capable of projecting 6 miles in a clear night sky over what's formally called the Pearl Harbor Memorial Bridge. It's among the most heavily traveled segments of the Northeast Corridor between New York and Boston.
Meanwhile, the state capital of Hartford canceled its July Fourth festival and fireworks show, which is billed as Connecticut's largest Independence Day celebration, though usually held a week after the holiday. The mayors of Hartford and neighboring East Hartford said they couldn't justify the roughly $100,000 expense while facing painful spending cuts.
July Fourth, California-Style
There's a something-for-everyone approach to fireworks in Los Angeles, where displays are planned at the Los Angeles Memorial Coliseum, the Hollywood Bowl, Grand Park near City Hall and the Rose Bowl in Pasadena, among other places around the massive metro area. San Francisco holds a large fireworks display over the San Francisco Bay.
In Oklahoma, A Party To Commemorate The Nation's Birthday
About 80,000 people are expected to gather on Monday night in Tulsa, Oklahoma, to celebrate the nation's birthday and the reopening of the River West Festival Park along the Arkansas River. Revelers at 2016 Folds of Honor FreedomFest will enjoy food trucks, inflatable rides, games and live music as fireworks choreographed to patriotic music fire off in the background.
Oldest July Fourth Party In The USA
A seaside town in Rhode Island hosted what's known as the nation's oldest continuous Fourth of July celebration, with 19 marching bands and 17 floats making their way through the streets of Bristol on Monday. About 100,000 people turn out for the parade in a typical year, according to city officials. An Independence Day celebration has taken place in Bristol since 1785, and the event has become entwined with the town's identity, WPRI-TV reported. A red, white and blue center stripe runs down the town's main street, and real estate listings for houses often note if they are on or near the parade route.