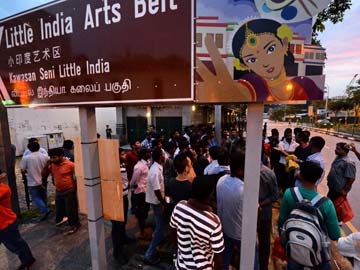 Singapore:
Singapore today extended by six months the ban on alcohol consumption in public during weekends and holidays at Little India, the scene of the country's worst riot in 40 years.
The ban on alcohol consumption in public at Little India would continue every weekend, public holiday and eve of public holiday within the proclaimed area, police said. They said these re-calibrated measures would be in place for up to six months until the Committee of Inquiry (COI) makes its recommendations.
The COI was set up following the December 8-riot which broke out after a private bus fatally knocked down an Indian pedestrian, 33-year-old Sakthivel Kuaravelu in Little India, a precinct of Indian-origin businesses, eateries and pubs where most of the South Asian workers take their Sunday break.
Some 400 migrant workers were involved in the rampage that left 39 police and civil defence staff injured and 25 vehicles -- including 16 police cars - damaged. Singapore previously witnessed violence of such scale during race riots in 1969.
Police said shops holding retail and wholesale licences would be allowed to sell alcohol, but only from 6am until 8pm on weekends, eve of public holidays and on public holidays. This would affect about 134 establishments such as liquor shops and convenience shops.
Police said the ban on sale of alcohol on premises by shops holding public house and beer house licences would be lifted but consumption must be within their premises.
This ban lift would cover establishments such as restaurants, hotels, pubs and coffee shops, the Channel NewsAsia reported.