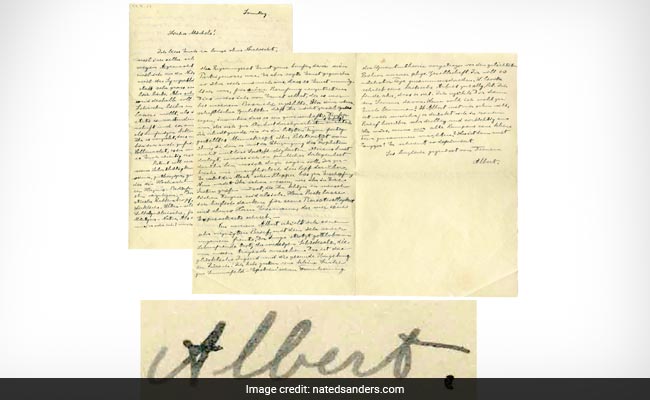 Los Angeles:
An autographed letter, in which German physicist Albert Einstein defends the character of a friend accused of murder, is up for auction in the US.
Dated April 29, 1917, the letter is addressed to Einstein's close friend and scientific collaborator Michele Besso - the only individual credited in Einstein's paper on the Theory of Special Relativity.
In the letter, Einstein addresses different topics, including General Relativity, quantum physics and his friend Friedrich Adler, who had recently assassinated Austrian Minister-President Karl von Sturgkh.
Einstein comes to his friend's defense, describing his personality and wondering how he could help him.
Adler's trial for the assassination of von Sturgkh was within days of Einstein's letter, according to the US-based Nate D Sanders Auctions.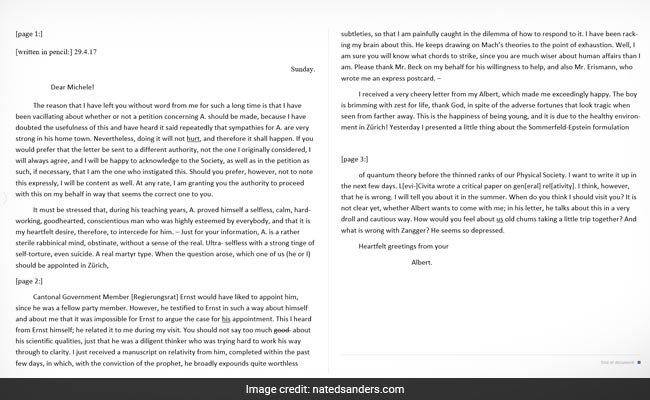 "A. proved himself a selfless, calm, hard-working, goodhearted, conscientious man who was highly esteemed by everybody, and that it is my heartfelt desire, therefore, to intercede for him," said Einstein wrote in the letter.
"A. is a rather sterile rabbinical mind, obstinate, without a sense of the real. Ultra- selfless with a strong tinge of self-torture, even suicide. A real martyr-type," he wrote.
Three page letter measures 5.5 x 8.25 inches, and is written in German.
Alder had written to Einstein on the Theory of Relativity, but Einstein did not think highly of it.
"I just received a manuscript on relativity from him, completed within the past few days, in which, with the conviction of the prophet, he broadly expounds quite worthless subtleties, so that I am painfully caught in the dilemma of how to respond to it," Einstein wrote.
"I have been racking my brain about this. He keeps drawing on (Ernst) Mach's theories to the point of exhaustion.
You are much wiser about human affairs than I am," he wrote.
The bidding for the letter ends on January 25.
(Except for the headline, this story has not been edited by NDTV staff and is published from a syndicated feed.)