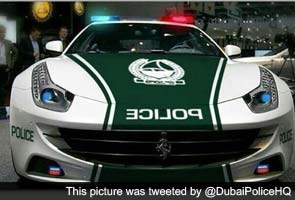 Dubai:
Cash-rich Dubai police on Wednesday unveiled its latest acquisition, a Ferrari luxury sports car, to enhance its patrolling abilities, just a week after adding Lamborghini to its fleet of vehicles.
The department made the announcement via Twitter. "Ferrari joins # Dubai_Police patrol fleet," the police tweeted. The twitter page also had an online link to the picture of the car.
"Ferrari cars will be equipped with the latest technology needed by the police to control road movement and ensure safety and security on Dubai roads," Lt-General Dhahi Khalfan Tamim, Commander-in-Chief of the Dubai Police was quoted as saying by UAE-based Khaleej Times.
"The new addition of the Ferraris to its fleet will enhance the patrolling abilities of the Dubai Police, which will be able to keep a tab and control on those driving on high speed," he added.
Just last week, the department had unveiled a $500,000 Lamborghini to join its current fleet of Toyota Land Cruiser and the Kia Mohave.