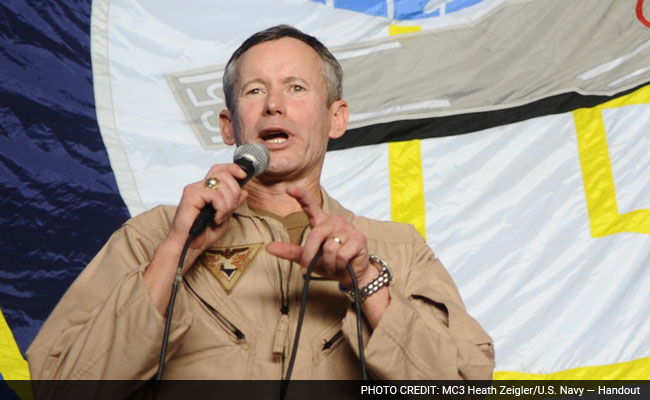 For more than two years, the Navy's intelligence chief has been stuck with a major handicap: He's not allowed to know any secrets.
Vice Adm. Ted "Twig" Branch has been barred from reading, seeing or hearing classified information since November 2013, when the Navy learned from the Justice Department that his name had surfaced in a giant corruption investigation involving a foreign defense contractor and scores of Navy personnel.
Worried that Branch was on the verge of being indicted, Navy leaders suspended his access to classified materials. They did the same to one of his deputies, Rear Adm. Bruce F. Loveless, the Navy's director of intelligence operations.
More than 800 days later, neither Branch nor Loveless has been charged. But neither has been cleared, either. Their access to classified information remains blocked.
Although the Navy transferred Loveless to a slightly less sensitive post, it kept Branch in charge of its intelligence division. That has resulted in an awkward arrangement, akin to sending a warship into battle with its skipper stuck onshore.
Branch can't meet with other senior U.S. intelligence leaders to discuss sensitive operations, nor can he hear updates from his staff about secret missions or projects. It can be a chore just to set foot in colleagues' offices; in keeping with regulations, they must conduct a sweep beforehand to make sure any classified documents are locked up.
Some critics have questioned how smart it is for the Navy to retain an intelligence chief with such limitations, for so long, especially at a time when the Pentagon is confronted by crises in the Middle East, the South China Sea, the Korean Peninsula and other hotspots.
"I have never heard of anything as asinine, bizarre or stupid in all my years," Norman Polmar, a naval analyst and historian, said in an interview.
In an op-ed in Navy Times last fall, Polmar urged Navy leaders to replace Branch and Loveless for the sake of national security. He cited complaints from several unnamed Navy officers that "intelligence management is being hampered at a moment of great turmoil."
It is a touchy subject for Navy brass, who have struggled to replace Branch. Twice in the past 14 months, they have taken steps to nominate a new intelligence chief - who must be confirmed by the Senate - but haven't followed through. There is no indication that a successor will be in place anytime soon.
In a statement, Rear Adm. Dawn Cutler, the Navy's chief spokeswoman, said the Justice Department's ongoing investigation of Branch and Loveless "has not impacted the Navy's ability to manage operations." She said the two still perform managerial duties while their civilian and military deputies handle the classified aspects of their jobs.
Branch and Loveless declined interview requests placed through the Navy.
In addition to serving as chief of Navy intelligence, Branch holds the title of the Navy's chief information officer, oversees the Navy's 55,000-member Information Dominance Corps and is in charge of many cybersecurity programs.
Privately, some Navy leaders acknowledged that dealing with the fallout from the Justice Department's investigation has been a nightmare and that they never anticipated the case would drag on so long.
"We had the understanding that this was going to resolve itself pretty quickly," said a senior Navy official, who spoke on the condition of anonymity to avoid antagonizing federal prosecutors. "We have no actionable information on Admiral Branch, good, bad or otherwise. All we know is that he's wrapped up in this somehow."
"Until these things resolve themselves, we're kind of frozen," the senior official added. "Is it optimum? No, it's not optimum. But it's where we are."
- - -
Branch has long been a star in the Navy's officer corps. A fighter pilot by training, he has flown combat missions over Grenada, Lebanon, the Balkans and Iraq.
He's perhaps best known for his leading role in a 10-part PBS documentary, "Carrier," an inside account of life aboard the world's largest aircraft carrier, the USS Nimitz, which he commanded in 2005.
In July 2013, he was promoted to become a three-star admiral and director of naval intelligence. But he would soon become hamstrung in the job.
About the same time, the Naval Criminal Investigative Service and the Justice Department were intensifying an investigation of Glenn Defense Marine Asia, a Singapore-based firm that had resupplied U.S. Navy vessels at Asian ports for a quarter-century.
The company's chief executive, Leonard Glenn Francis, was lured to the United States in a sting operation and was arrested at a San Diego hotel. A large and charismatic man known as "Fat Leonard," he was charged with running a bribery scheme and defrauding the Navy of more than $20 million.
Several Navy officials were arrested, including a senior NCIS agent who confessed to feeding inside information to Francis for years.
As the case unfolded in federal court, prosecutors described in astonishing detail how Francis had bribed Navy officers with prostitutes, cash-stuffed envelopes, lavish hotel stays, spa treatments and epicurean dinners featuring champagne, Cuban cigars, Kobe beef and Spanish suckling pigs.
In exchange, prosecutors said, some Navy officials provided Francis with classified information and steered Navy vessels to ports he controlled so he could overcharge the U.S. government for fuel, food, water and other supplies.
The investigation escalated quickly as federal agents traced Francis's interactions with hundreds of Navy personnel over the previous decade.
On Nov. 8, 2013, late on a Friday night, the Navy announced that Branch and Loveless had been swept up in the case.
The Navy gave no details about what they were alleged to have done. Although the Navy said there was no evidence that either admiral had compromised military secrets, it suspended their access to classified material, saying the move was "prudent given the sensitive nature of their current duties."
- - -
Little information about their predicament has surfaced since then.
One year later, Branch issued a statement to the Navy Times in which he said investigators were examining work performed by Glenn Defense Marine Asia while he served as the commander of the Nimitz.
He didn't elaborate but said he looked forward to the end of the inquiry "so that I can resume in full my service to the Navy and the country."
Justice Department officials declined to answer questions about their scrutiny of Branch or to discuss why the inquiry has taken so long.
"This remains an active, ongoing investigation that covers conduct that spans more than a decade and involves a massive amount of evidence, multiple countries, tens of millions of dollars in fraud, and millions of dollars in bribes and gifts to scores of U.S. Navy officials," Laura E. Duffy, the U.S. attorney in San Diego, said in a statement.
A source close to the investigation said that more than 100 Navy personnel and other people remain under investigation for potential criminal, financial or ethical violations.
"The sheer number of people involved here is extraordinary," the source said, speaking on the condition of anonymity because the case is ongoing.
A second source close to the investigation said that Branch met Francis 16 years ago, when Branch was the executive officer of the aircraft carrier USS John C. Stennis, and that the pair stayed in regular contact.
The source said Francis has also known Loveless for many years, dating to his deployments in Asia as an intelligence officer aboard the aircraft carrier USS Kitty Hawk and as intelligence chief for the Navy's 7th Fleet, based in Japan.
Although it is against federal ethics regulations to accept gifts from contractors, the Justice Department is focusing on Navy personnel who in turn did Francis's bidding by sharing inside information or enabling him to overcharge the government.
"Some guys were just having a good time on Leonard's dime," the second source close to the investigation said. "Other guys were passing on classified information."
Prosecutors have suggested that more arrests are likely. Seven defendants, including Francis, have pleaded guilty in federal court.
Federal corruption charges also are pending against a Navy commander and a senior Pentagon civilian. In addition, a former Navy contracting official living in Singapore was arrested there last month.
The extent of the scandal has been deeply humiliating for the Navy. Last week, at the sentencing of an enlisted sailor who forked over military secrets in exchange for cash and electronic gadgets, Rear Adm. Jonathan A. Yuen, the chief of the Navy Supply Corps, said he was mortified by the revelations in court.
"I do not have the words to express the depth of the betrayal," Yuen testified. "No amount of money is worth betraying our nation, our Navy or our shipmates."
In addition to those facing criminal prosecution by the Justice Department, the Navy has been investigating an unspecified number of people suspected of violating military regulations.
In February, for instance, the Navy officially censured three admirals for dining at "extravagant" banquets and accepting other gifts from Francis when they were assigned to the USS Ronald Reagan aircraft carrier strike group a decade ago.
- - -
With Loveless's status in limbo, the Navy transferred him to another position in December 2014.
As the corporate director for information dominance, he still works for Navy intelligence. But he deals primarily with issues that don't require a security clearance, such as personnel and training, officials said.
The Navy has twice taken steps to replace Branch as well, but for reasons that remain unclear, hasn't gone through with it.
In November 2014, the Navy prepared a nomination package for Rear Adm. Elizabeth L. Train to become the service's intelligence head. But her promotion was put on hold after someone filed a complaint against her with the Navy inspector general.
Details of the complaint couldn't be learned, but Pentagon officials said Train was cleared of wrongdoing by the inspector general. Her nomination was sent to the Senate Armed Services Committee in September.
Nothing has happened since. Pentagon officials said that her nomination has been placed on the back burner and that she is not scheduled for promotion until July, although they declined to explain why.
Such a delay could work in Branch's favor.
If he remains in his current job until July, he will have enough service time to qualify to retire as a vice admiral. If forced to leave before then, it's more likely that he would have to retire at a lower rank as a two-star admiral, with a smaller pension.
The senior Navy official disputed that Branch's rank and retirement eligibility was influencing the timetable to replace him. "That has not been a factor whatsoever," the official said.
Even if Branch were cleared of wrongdoing by the Justice Department and the Navy tomorrow, he would face a much longer wait to regain access to military secrets.
Pentagon officials said his security clearance would have to be restored by a separate arm of the bureaucracy - the Defense Department's Central Adjudication Facility - in a process that usually takes months.
© 2016, The Washington Post