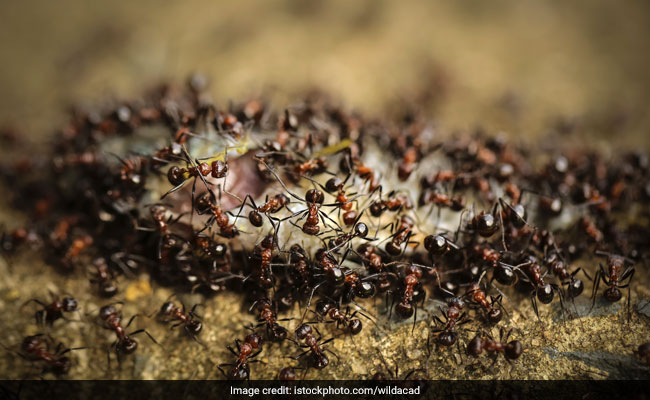 Tropical Storm Cindy may have been downgraded to a tropical depression Thursday, but that doesn't mean Gulf Coast residents are in the clear.
As the storm moves inland, it's still expected to dump enough rainfall between Texas and Florida to cause severe flooding, which raises the possibility of another threat that may take some locals by surprise: floating fire ants.
The notoriously tough insects are just as dangerous when they're wet as they are dry, according to Alabama officials, who are warning residents to keep their eyes peeled for floating mounds of fire ants.
"Floodwaters will not kill fire ants," the warning states. "Instead their colonies will emerge from the soil, form a loose ball, float and flow with the water until reaching a dry area or object."
"Floating colonies can look like ribbons, streamers or a ball of ants floating on the water," the warning adds. "These amoeba-like masses contain all of the colonies' members - worker ants, brood (eggs, larvae, pupae), winged reproductive males and females, and queen ants."
The warning notes that invasive species are rugged and will latch onto anything that they come into contact with, such as piles of debris from flooded homes. The warning cautions residents to deal with an ant colony quickly.
With Cindy moving across the Gulf, parts of the northern Gulf coast have received six to eight inches of rain since Tuesday, leading to areas where flooding is already underway.
"The highest rainfall amount so far is 8.50 inches in Wiggins, Mississippi," Weather.com reported, while describing these accounts of flooding:
"Lake Charles, Louisiana, experienced flash flooding Wednesday evening. Knee-deep water was reported on some roads, along with on/off ramps under water. There were also reports of stranded motorists across Lake Charles.
"Flooding from two swollen creeks was observed in Brewton, Alabama, Wednesday afternoon. Some road flooding has also been reported in far southern Alabama and the western Florida Panhandle."
Fire ants are known for their aggression and their painful bite, which is the result of "pinching mandibles" on their heads and a "sharp stinger" on the rear of their body, according to the American Osteopathic College of Dermatology.
The college notes that the ants arrived by accident in Alabama from South America in the 1930s before spreading throughout the United States.
"Fire ant stings usually occur on the feet or legs after accidentally stepping on a fire ant mound," the college states. "It is important to be aware that during the summer fire ants obtain the largest amount of venom and therefore the stings are largest and most painful. If you are in a rowboat, do not touch the ants with oars.
Alabama officials say fire ants present a nasty foe for people moving through floodwaters. The ants can climb on to boats and oars and - after biting someone's skin - will cling to a person's body part even if it's submerged in water. Alabama officials are urging residents to wear gloves, long-sleeved shirts, long pants, socks and shoes and consider spraying insect repellent on their clothes.
"Even a high-pressure water spray may not dislodge them. However, a spray of diluted, biodegradable dishwashing liquid may help immobilize and drown them."
Floating islands of red fire ants have been documented by photographers in the recent past, according to NBC affiliate WSAV. The South Carolina station recorded video of a fire ant raft during a flood in 2015. The phenomenon was also documented the same year during flooding in Texas, which has long battled a severe fire ant problem.
Kelly Loftin, an extension entomologist and professor University of Arkansas, told The Washington Post that fire ant rafts exist and he's seen them himself during flooding in Arkansas.
As water levels in a flood rise, Loftin said, the ants will seek the highest ground possible before starting to cling together with their legs and feet, forming a raft that insects eventually tip into the water. The rafts can form in as little as an hour, he said.
The exercise is a communal one with particular roles for each ant to play, Loftin said, noting that the effort that is designed to keep the queen safe and allow the insects to hold out until they're able to find a new place to colonize.
"Those ants that are trapped under the water will collect bubbles to break that surface tension and raise up the raft so it can float," Loftin said. "They move around so that no individual remains submerged in the water for long."
"The queen is kept safe in the middle of that raft," he added. "The workers are keeping the eggs and the small larvae safe from the water and oftentimes they're doing that by holding them in their mouth."
Loftin said the rafts can look like floating dirt or mulch to people who aren't paying attention. Because the ants are looking for dry ground, anyone in a boat should go out of their way to avoid the insects. Loftin said the threat posed by the rafts doesn't disappear overnight.
"Studies have shown that colonies that have plenty of brood - larvae, eggs and pupa, which gives them buoyancy - can stay in that raft formation for as long as 12 days," he cautioned.
(This story has not been edited by NDTV staff and is auto-generated from a syndicated feed.)