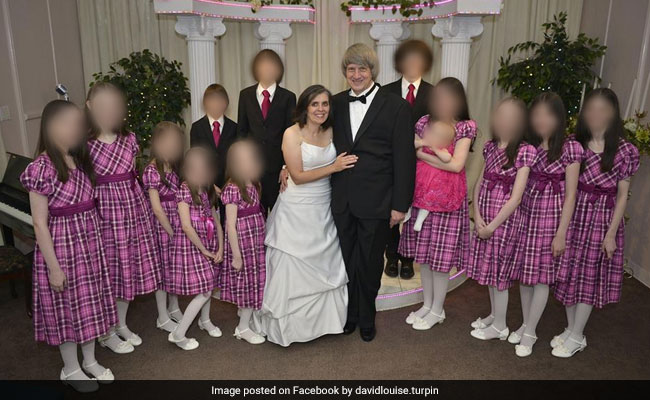 Highlights
As punishment, the 13 siblings were chained to their beds with padlocks
The siblings, who ranged in age from 2 to 29, were severely malnourished
Many of the siblings have now cognitive impairment and nerve damage
What first started as neglect, officials said, became dangerous and pervasive child abuse over the years.
If they misbehaved, the 13 siblings living in a Southern California home would be tied to their beds as punishment - first with ropes, until a child whose limbs were strung together was able to wriggle free. Then, the parents began using chains and padlocks, officials said.
Over time, the periods in which the siblings were confined grew longer, and they would not be released to use the bathroom, officials said.
These disturbing living conditions for years went undiscovered, police say, until a 17-year-old girl escaped from the Perrin, California, house this week. Her 12 siblings were freed soon after, and her parents were arrested.
On Thursday, David Allen Turpin and Louise Anna Turpin were charged with multiple felony counts of torture, child abuse, abuse of dependent adults and false imprisonment. David Turpin is additionally charged with committing a lewd act on one of the female children by force. The couple, initially arrested on charges of torture and child endangerment, could face up to life in prison if found guilty.
Each defendant is held in lieu of $13 million bail - $1 million per child, Riverside County District Attorney Michael Hestrin said at a news conference Thursday.
"This is severe, emotional, physical abuse," Hestrin said. "There's no way around that. This is depraved conduct."
A public defender for David Turpin said outside the courthouse that "our clients are presumed to be innocent - and that's a very important presumption." The lawyer, David Macher, told reporters that "the case will be tried in court. It will not be tried in the media." But he added that defending Turpin against so many serious charges "is going to be a challenge."
Authorities on Thursday provided their first detailed account of the siblings' condition and treatment.
The siblings, who ranged in age from 2 to 29, were severely malnourished, according to police. When they weren't chained they were fed very little food on a schedule, Hestrin said.
The parents would buy food for themselves but prohibit the children from having any, with the exception of the 2-year-old, who was getting enough to eat. Sometimes, authorities said, the parents would buy apple or pumpkin pies, leave them on the counter and let them go uneaten, prohibiting the children from tasting them.
One 12-year-old is so malnourished that his weight was that of the average 7-year-old, and the 29-year-old female victim weighs 82 pounds, Hestrin said.
The siblings rarely left their Perris, California, house and did not go to school. Instead, they were taught at home, Hestrin said, but were forced to sleep all day and stay up at night, typically going to sleep at 4 or 5 a.m.
The Turpin children were permitted to bathe just once a year, Hestrin said.
If they washed their hands above their wrists, they would be chained up as punishment for playing with water, he said. Other punishments for misbehavior included beatings and strangulation, Hestrin said.
Many of the siblings have cognitive impairment and nerve damage as a result of the abuse, he said. The siblings had not seen a doctor in more than four years and had never seen a dentist. Medical experts said they expect that the siblings will require long-term psychological support in their recovery.
The siblings had long looked for a way to escape, Hestrin said. The 17-year-old who led police to the house had been working on a plan with her brothers and sister to break away for more than two years, Hestrin said. Minutes before sunrise, she climbed out a window with another child, but that child was afraid of being caught and turned back.
Police said she dialed 911 on a deactivated cellphone near the house, which is about 80 miles outside Los Angeles. Under federal law, cellphones - even those that are no longer operational - must be able to call emergency services.
Three of the siblings were chained at the moment police arrived at the house Sunday, Hestrin said. The parents were able to get two of the children, 11 and 14, unchained before police entered, but a 22-year-old remained chained to the bed.
After their rescue, the victims were given food and beverages, then the six minors were taken to Riverside University Hospital System Medical Center for treatment, according to the Riverside County Sheriff's Department. The seven older siblings were taken to a different hospital.
This week, authorities said that David and Louise Turpin were "unable to immediately provide a logical reason" why the children were shackled and chained and that Louise Turpin seemed "perplexed" by the investigators' questions.
The siblings' grandparents told ABC News that during the children's home-schooling, they were made to memorize long scriptures of the Bible, with some memorizing the entire book. But Hestrin said the children appear to be lacking "basic knowledge of life." Many of the children did not know what a police officer was, for example, and the 17-year-old who called to report the abuse did not know what pills or medications were upon police questioning.
Louise Turpin's sister, Teresa Robinette, told NBC News on Tuesday that the discovery of the children's' living conditions felt "like a bad dream."
"I'm seriously so heartbroken for my nieces and nephews," she said. "I can't even say the words to you that I would like to say to [Louise Turpin]. I'm so angry inside. I'm mad. I'm hurt."
Photos on a Facebook page that appeared to be created by David and Louise Turpin show the couple at Disneyland with the children, wearing matching shirts. Several photos appeared to be taken at a wedding ceremony. The parents posed in bride and groom attire, surrounded by 10 female children smiling for the camera in matching purple plaid dresses and white shoes. Three male children stood behind them wearing suits.
David Turpin is listed in a state Department of Education directory as the principal of Sandcastle Day School, a private K-12 school that he ran from the house. It opened in 2011, and enrolled six students during the 2016-2017 school year, one in each the fifth, sixth, eighth, ninth, 10th and 12th grades, according to the directory.
Capt. Greg Fellows of the Riverside County Sheriff's Department told The Washington Post's Samantha Schmidt and Lindsey Bever this week that there was no indication that the other students were involved in the school.
The abuse began when the family lived in Fort Worth, Hestrin said. The parents lived apart and would deliver food to the children from time to time. The family moved to California in 2010, first to Murrieta, also in Riverside County, then in 2014 to their house in Perris.
Police are still trying to piece together the extent of the abuse and encourage people to contact them with any information that may further reveal what was happening in the Turpin house.
"This is an ongoing investigation," Hestrin said. "We are at the beginning, not the end."
In the meantime, they're tapping into another resource - the siblings' journals, hundreds of which were recovered by investigators.
Ironically, Hestrin noted, "about the only thing the children were allowed to do" in captivity was to write. In all likelihood, he said, their journals "are going to be strong evidence of what occurred" inside their apparent house of horrors.
The couple is due back in court on Feb. 23.
(This story has not been edited by NDTV staff and is auto-generated from a syndicated feed.)