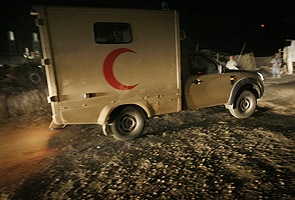 Kabul:
A cargo plane owned by a US-based company crashed into mountains east of Afghanistan's capital Kabul on Wednesday, with initial reports saying all eight people aboard were killed, an Afghan airport official said.
The plane was flying from Bagram Air Field, the main US military base in Afghanistan, when it went down east of the capital at about 0800 pm (2100 hours IST), Kabul Airport Director Mohammad Yaqub Rassuli told The Associated Press.
An Associated Press photographer near the scene saw wreckage ablaze on a hillside.
The cause of the crash wasn't immediately known. Weather conditions were clear this evening. Rassuli said all eight crew members were believed dead, although NATO and Afghan troops were continuing with their search-and-rescue mission.
"We're still hoping to find survivors," said NATO spokesman James Judge. "We're still searching." The aircraft took off from Bagram, which lies about 50 kilometres north of Kabul, but its destination was unclear. The plane was owned by US-based company National Air Cargo, Judge said.
National Air Cargo President Preston Murray wasn't immediately available for comment today, his secretary said.
Judge couldn't immediately confirm the aircraft was carrying supplies for NATO. The company based in Orchard Park, New York, says on its website it provides "forwarding services for various military industrial customers."
NATO said in a statement the crash occurred about 30 kilometers east of the Kabul International Airport.
The alliance said early reports indicated the plane was an L-100 Hercules aircraft, the civilian equivalent of a military C-130. The plane was not a NATO aircraft, it said.
In May, a passenger plane operated by Pamir Airways, a private Afghan airline, crashed while traveling from Kunduz in northern Afghanistan to the capital. All 44 passengers on the plane died.