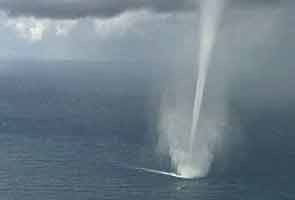 Sydney:
Dramatic footage was captured on Monday of a series of powerful waterspouts near the coastal suburb of Terrigal, on Australia's New South Wales coast.
Video, filmed from a helicopter by Australian broadcaster Channel Seven, showed several powerful columns of swirling air blasting along the water's surface near the coastline.
Channel Seven claimed the spouts reached heights of up to 600 meters (nearly two thousand feet), but dissipated as they neared land.
"It looked pretty impressive, I wouldn't have liked to have been in a boat out there," said a local resident.
Waterspouts are created when tornadoes develop over the sea. They can move as fast as 80 miles an hour and like tornadoes, they can often pick up and transport strange objects.
The natural wonders came as strong winds and heavy rain also lashed other parts of the state, causing flash flooding and traffic chaos in Sydney.
Several cars were submerged and the downpour caused road closures, local media reported.
A State Emergency Services official said five people were rescued after they were trapped by the flooding in Sydney's metropolitan area.
The bureau of meteorology said the city had already received around 20 millimeters of rain by late on Monday.
The bureau issued severe weather warnings of flash flooding for the Hunter, Sydney Metropolitan and Illawarra Regions, local media reported.