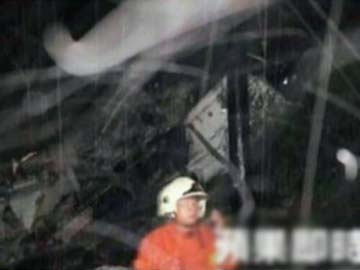 Taipei:
A plane landing in stormy weather crashed outside an airport on a small Taiwanese island late Wednesday, and the transport minister said 47 people were trapped and feared dead.
Taiwanese Transport Minister Yeh Kuang-shih was quoted by the government's Central News Agency as saying 11 other people were injured when the plane crashed and caught fire while making a second landing attempt.
Yeh was quoted as saying the flight, operated by Taiwan's TransAsia Airways, carried 58 passengers and crew members.
The news agency had earlier quoted a local fire brigade chief as saying that 51 people had been killed.
Flight GE222, a twin-engine turboprop ATR-72 aircraft, was heading from the southern port city of Kaohsiung to the island of Penghu in the Taiwan Strait, according to the Taiwanese news agency.
It crashed outside the airport in Xixi village, and pictures in local media showed firefighters using flashlights to look at wreckage in the darkness.
Penghu is a lightly populated island that averages about two flights a day from Taipei.
The flight left Kaohsiung at 4:53 p.m. for Magong on Penghu, according to the head of Taiwan's Civil Aeronautics Administration, Jean Shen. At 7:06 p.m., after saying it would make a second attempt at a landing, the plane lost contact with the tower.
Visibility as the plane approached was 1,600 meters (one mile), which met standards for landing, and two flights had landed before GE222, one at 5:34 p.m. and the other at 6:57 p.m., the agency reported.
But it appeared that heavy rain reduced visibility and the plane was forced to pull up and make a second landing attempt, the report cited the county fire department as saying.
Taiwan was battered by Typhoon Matmo early Tuesday morning, and the Central Weather Bureau warned of heavy rain through the evening, even though the center of the storm was in mainland China.
Shen said the plane was 14 years old.
In October 2013, a Lao Airlines ATR-72 crashed during a heavy storm as it approached Pakse Airport in southern Laos, killing all 49 people on board.