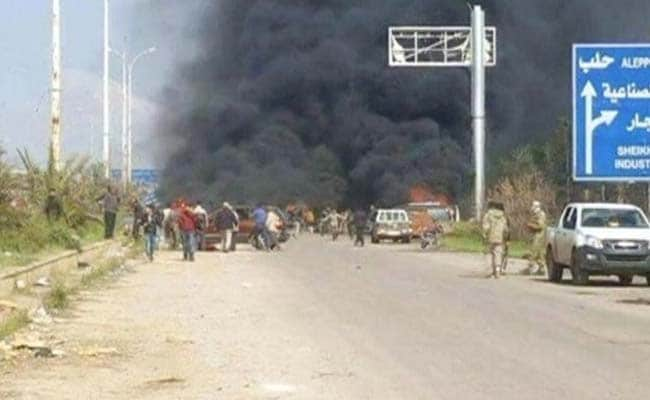 Beirut:
A suicide car bomb attack on buses carrying Syrians evacuated from two besieged government-held towns killed 43 people on Saturday, as US-backed fighters advanced in their push towards the ISIS group's Raqa stronghold.
The Syrian Observatory for Human Rights said the blast targeted buses carrying residents evacuated from the northern towns of Fuaa and Kafraya under a deal reached between the regime and rebels.
"The suicide bomber was driving a van supposedly carrying aid supplies and detonated near the buses," the monitoring group said.
It said most of the dead in the explosion in rebel-held Rashidin, west of Aleppo, were evacuees, but the blast also killed several rebels who had been guarding the buses.
Thousands of evacuees had been stuck on the road because of a disagreement over the number of rebels allowed to leave two other towns included in the deal.
The evacuation process resumed following the blast, the Observatory said.
AFP's reporter at the scene saw several bodies, body parts and blood scattered on the ground.
The wounded including several children received treatment at a hospital in the government-held part of Aleppo.
The bombing took place as thousands of evacuees from Fuaa and Kafraya waited to continue their journey to regime-controlled Aleppo, the coastal province of Latakia, or Damascus.
The rebel group Ahrar al-Sham condemned the bombing.
"We reject any accusations levelled at opposition for this heinous crime," a senior official tweeted. "Our role was to secure civilians not kill them."
More than 5,000 people who had lived under crippling siege for more than two years left the two towns, along with 2,200 evacuated from rebel-held Madaya and Zabadani, on Friday.
Syria's war has left more than 320,000 people dead since erupting in 2011, with more than half the population forced from their homes and hundreds of thousands trapped under siege.
It has sucked in regional and international powers and allowed jihadist groups to seize vast areas of the country.
SDF advances
US-backed fighters reached the outskirts of a key jihadist-held town in northern Syria on Saturday as part of an offensive aimed at the ISIS bastion of Raqa.
The Syrian Democratic Forces (SDF), an Arab-Kurdish alliance supported by a US-led coalition, surrounded Tabqa in early April and have cut its main supply routes.
The town and a nearby dam are key prizes in the broader offensive for Raqa, the jihadists' de facto Syrian capital about 55 kilometres (35 miles) to the east.
An SDF military source said Saturday that clashes were fierce and that the alliance's forces were "trying to penetrate the town from the east and west".
SDF fighters are within a few hundred metres (yards) of Tabqa and engaged in heavy fighting as IS counter-attacked, said Observatory head Rami Abdel Rahman.
The SDF launched a campaign for Raqa in November, backed by US-led coalition air strikes, advisers and artillery. It has since captured most of the surrounding province.
Tabqa sits on a key supply route into Raqa and served as an important ISIS command base, housing the group's main prison.
Evacuation in balance
Backed by Russia and local militias, pro-government forces have made a string of recent gains.
The government and rebels have brokered a series of deals to evacuate people from besieged areas, which Damascus touts as the best way to end the violence. Rebels say they are forced out by siege and bombardment.
The deal involving the evacuees targeted on Saturday has been beset by delays, and the 5,000 Fuaa and Kafraya residents had waited in Rashidin for more than a day without moving before the bomb went off, an AFP correspondent said.
Around 2,220 evacuees from Madaya and Zabadani were similarly blocked at a transit point in government-held territory, one of them told AFP by telephone.
State television said the car bombing had been carried out by "terrorist groups", a term the regime applies to all armed opposition groups.
The main opposition High Negotiations Committee (HNC) condemned the bombing, saying that "terrorism shall end if a political transition takes place".
Many residents had earlier expressed regret over not knowing when, if ever, they would be able to return to their homes.
"It's terrible to be uprooted like this, to go and live in a place that is not ours," said Jama Nayef, a vet from Fuaa.