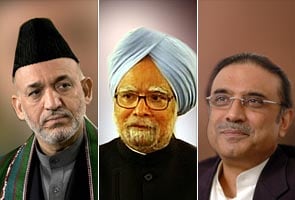 Washington:
India was deliberately kept out of the Turkey-sponsored meeting on Afghanistan earlier this year to address the "sensitivities" of Pakistan, according to WikiLeaks cable.
Reflecting Islamabad's insistence at every international fora that New Delhi be kept out of any meeting on Afghanistan, a top Turkish diplomat told US officials early this year that India was kept out to address the concerns of Pakistan, WikiLeaks said.
At a meeting with the US Under Secretary of State for Political Affairs, William Burns; Rauf Engin Soysal, who then was Turkey's Deputy Under-Secretary for Bilateral Political Affairs responsible for the Middle East, South Asia and Africa; said Turkey had not invited India to the Afghan neighbours summit in deference to Pak sensitivities.
Pakistan President Asif Ali Zardari, Afghan President Hamid Karzai met in Istanbul for Turkish-sponsored talks to discuss cooperation against extremists in Afghanistan earlier this year.
"He (Soysal) said Turkey had not invited India to the neighbours summit in deference to Pakistani sensitivities; however, he claimed, Pakistan understands attempting to exclude India from the nascent South Asian regional structures would be a mistake," says the confidential State Department cable dated February 25, 2010.
Soysal, a former Turkish Ambassador to Pakistan from 2007 to 2009, and his country's Special Representative for Afghanistan and Pakistan, was appointment by the UN Secretary General, Ban Ki-moon, as the Special Envoy for Assistance to Pakistan in September.
"He (Soysal) reported Indian Prime Minister Singh had requested (Turkish) President Gul's assistance with Pakistan during the latter's visit to New Delhi the previous week.
Acting on that request, Gul had phoned Pakistani President Zardari, who was skeptical of Indian intentions. Gul is planning to visit Pakistan later this year," the cable said.
"Soysal said Iran is proposing a quadrilateral summit, which would include Turkey, Afghanistan and Pakistan, but that proposal had yet to generate enthusiasm," it said.
Soysal, according to the cable, said the Pakistani military, though displeased with the President, Asif Ali
Zardari, remains unwilling to intervene; nevertheless, senior officers' patience may not be infinite.
"Zardari needs to increase the democratic legitimacy of Parliament. Soysal offered. Nawaz Sharif has become a much more constructive player," said the State Department cable as released by WikiLeaks.