Hyderabad News | Written by Uma Sudhir | Saturday August 4, 2018
If you feel you've had a long week, and could relax at a neighbourhood spa, you'd be surprised to know that babies have their share of stress too. It is imperative for a baby to be relaxed for better cognitive and overall development. Addressing this need, a baby spa in Hyderabad has become the country's first such facility to offer a range of opti...
Offbeat | Amrita Kohli | Wednesday March 22, 2017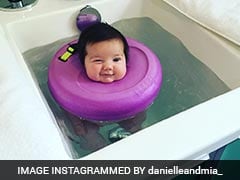 Being a newborn can be quite stressful, what with being new to the world and having to eat, sleep and poop all day. So, to help babies get some much needed R&R, two sisters opened a special babies only spa in Australia. And pics from the spa have taken the Internet by storm.