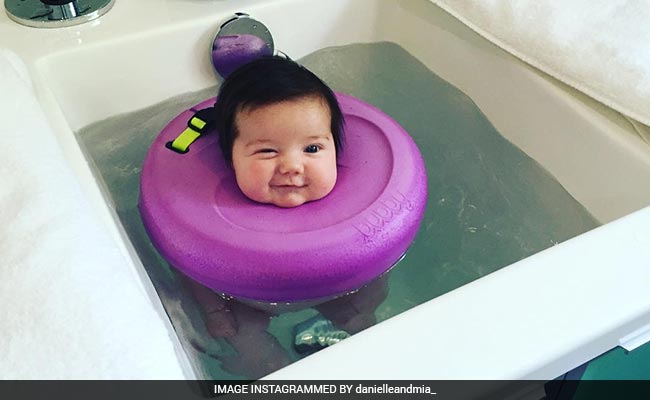 Highlights
'Baby Spa Perth' offers hydrotherapy sessions and massages for infants
The spa runs a popular Instagram account with over 18,000 followers
Photos from the spa have taken the Internet by storm
NEW DELHI:
Being a newborn can be quite stressful, what with being new to the world and having to eat, sleep and poop all day. So, to help babies get some much needed R&R, two sisters opened a special babies only spa in Australia. Now pictures from 'Baby Spa Perth' - showing babies comfortably floating around in bath tubs - have taken the Internet by storm. People just can't seem to have enough of the photos and chances are you'll love them too.
'A sanctuary for babies,' the spa offers hydrotherapy sessions and massages for infants up to six months. The spa uses a special flotation device called 'Bubby' that helps newborns float around in water. The spa treatment helps strengthen a baby's muscles and aids in breathing. It also comforts the child.
The facility is among the first few of its kind and is co-owned by sisters Anita Yap and Kavita Kumar. The spa is the brainchild of Laura Sevenus, who reportedly opened the world's first Baby Spa in London.
'Baby Spa Perth' runs a rather popular Instagram account with over 18,000 followers. Pictures from the spa are so cute, they have been circulating all over social media.
Here are some of the adorable photos shared on the page. These are guaranteed to put a huge smile on your face.
Doesn't this baby look happy?
Pool play dates? Where was this when we were growing up?
Just look at that smile
Aww...
Are these babies teasing us?
Don't like being clicked?
Wonder what these cuties are talking about
Just look this tot enjoying a massage
And this one who can't stop giggling
"Check out this account... I'm crying it's so cute," says one commenter on Instagram. "Just scroll through this feed and die," says another.
What do you think of the photos? Aren't they totally adorable?