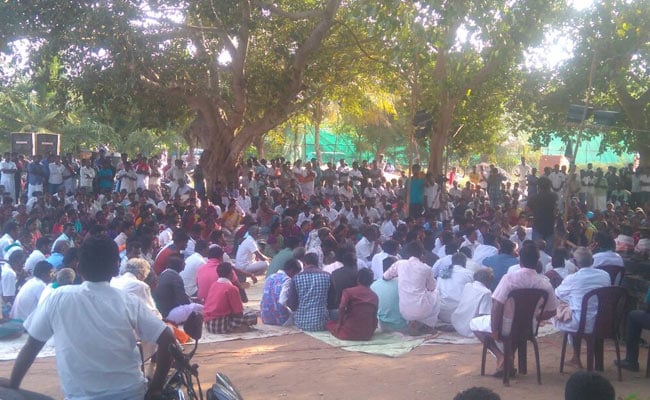 Chennai:
In what has been compared to this month's Jallikattu protests in Chennai, thousands of people gather every day in Neduvaasal village of Tamil Nadu's Pudukottai district to protest against a hydrocarbon extraction project by the centre. The villagers say the project will deplete ground water and destroy agriculture. College students from Chennai and other cities, scientists and others have joined the protest and they are mobilising support through social media. The Neduvaasal project is part of Prime Minister Narendra Modi's ambitious plan to reduce oil imports by 10 percent by 2022.
Here are the 10 latest developments in this story:
The protesters allege that about 70 villages in a 25-km area will be adversely affected by the project, one of 31 small oil and gas fields that the Modi government is tapping as part of its Discovered Small Fields Policy.

The protests in Neduvaasal began soon after the government awarded rights for the development of these small discovered oil and gas fields to companies through an auction. Development of these small fields is seen as crucial for PM Modi's plan to reduce dependency on oil imports.

The 31 blocks awarded are expected to boost the country's oil output by about 15,000 barrels of oil per day and gas production by 2 million standard cubic meters a day, oil regulator Directorate General of Hydrocarbons or DGH has said.

These are discovered fields, in which the presence of oil or gas is already established, and so production can be started quicker than larger fields.

The estimated revenue from these blocks is Rs 46,400 crore ($7 billion), according to the DGH, Bloomberg has reported. For the states in which these fields are located, the projects will earn royalty.

The Neduvaasal hydrocarbon project been awarded to Gem Laboratories Private Limited and is expected to yield 62 million metric tonnes of crude oil and gas.

Tamil Nadu Chief Minister E Palaniswami has written to Prime Minister Narendra Modi to go ahead with the project only if there is consensus among all stakeholders. The representatives of the protesters will separately meet the Chief Minister in his office in Chennai tomorrow.

In neighbouring Puducherry, Chief Minister V Narayanasamy of the Congress has said no to the Karaikal project in Puducherry, also one of the 31 fields.

Union Minister Pon Radakrishnan of the BJP has said the fears of the villagers are unfounded and has called the protests "anti-development." Union Minister of State for Petroleum and Natural Gas Dharmendra Pradhan, in a statement, indicated that the project won't be withdrawn. "Till date, more than 700 wells have been drilled for extraction of Oil and Gas in the Tamil Nadu. These active operations are not hampering agriculture in nearby areas and do not pose any known environmental impact or health hazards on living beings of the operational area," he said in a statement.

India imports more than 80 percent of its crude requirement and the big dependence on imports is seen as an impediment in its growth story.