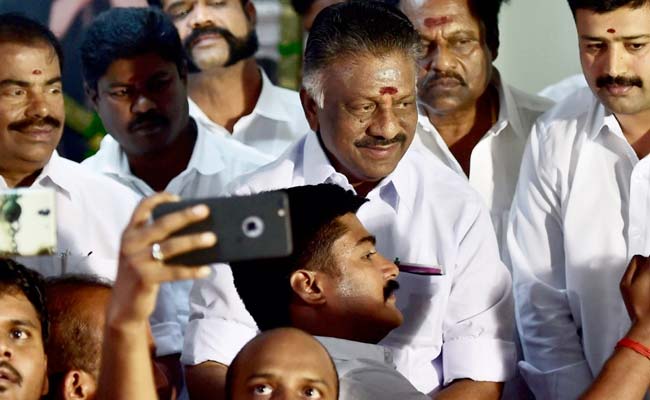 Highlights
E Palanisamy, Sasikala's choice, met Governor first
Acting Chief Minister Panneerselvam went next
Governor won't disclose a decision tonight: sources
Chennai:
Governor C Vidyasagar Rao heard competing pitches on Wednesday night from within the ruling party of Tamil Nadu over who should be chief minister. However, sources said he will not disclose a decision rightaway on which faction of the AIADMK should take a shot at proving its leader should be head of the government.
The Governor met first with E Palaniswami, who claimed the support of 125 state legislators or MLAs. Next up was O Panneerselvam, currently acting Chief Minister, who says he has 11 MLAs. Both want to take a trust vote in the legislature and presented the Governor with a list of legislators supporting them.
While numerically they are vastly unequal, both sides have displayed an equal competence for theatre and political skullduggery and the ability to channel the wishes of J Jayalalithaa, the party's authoritarian matriarch, who died two months ago while Chief Minister.
The AIADMK has 134 of Tamil Nadu's 234 legislators. The considerably larger faction is headed by VK Sasikala, who was jailed in Bengaluru on Wednesday to serve four years for corruption. The sentence, delivered on Tuesday, eliminates her bid as chief minister, a campaign that was centred on her close relationship with Ms Jayalalithaa, with whom she lived for over two decades. In her place, she has chosen Mr Palaniswami as the AIADMK's presumptive Chief Minister.
Members of this group accuse the Governor of "inordinate delay" and the AIADMK has launched an online campaign asking the public to complain in writing to Prime Minister Narendra Modi about the deferral of a decision, which, they say, allows Mr Panneerselvam the chance to chip away at their team, which is sequestered at a resort to prevent defection.
Though Mr Panneerselvam's head count is skimpy, it would be unwise to dismiss him as a fly-by-night operator in this crisis, not least because public opinion has so far rallied behind him.
There's also the fact that he's acting Chief Minister, which, according to some experts, invests him with enough powers that his own claim to take a trust vote cannot be dismissed without consideration.
He was made Chief Minister within hours of Ms Jayalalithaa's death - a promotion that merited little fuss because she treated him like an understudy, choosing him twice to stand in for her when corruption cases impelled her to take a break from office.
A large part of his appeal was his unquestioning, abject devotion to her - he sobbed on the occasions when he took oath as Chief Minister while she was alive, carried her photo in his breast pocket every day, and refused to occupy any chair or office normally used by her.
Two Sundays ago, the AIADMK met and decided Mr Panneerselvam, akin to always a bridesmaid, would be replaced as head of the government by Ms Sasikala. He sent his resignation to the Governor, who asked him to take interim charge, presumably till Ms Sasikala was sworn-in. Then, Mr Pannerselvam went rogue. At Jayalalithaa's memorial on a Chennai beach, he announced he intended to go nowhere.
Attorney General Mukul Rohatgi, who is the centre's top lawyer, told NDTV on Tuesday that if the Governor believes there are rival claims from within the same party, he should ask for a composite floor test - which means that all 234 legislators in Tamil Nadu would have to sign their names and vote for either of the candidates - Mr Panneerselvam or Mr Palaniswami.
Though Mr Panneerselvam says he resigned under pressure, experts say his resignation letter cannot be withdrawn.