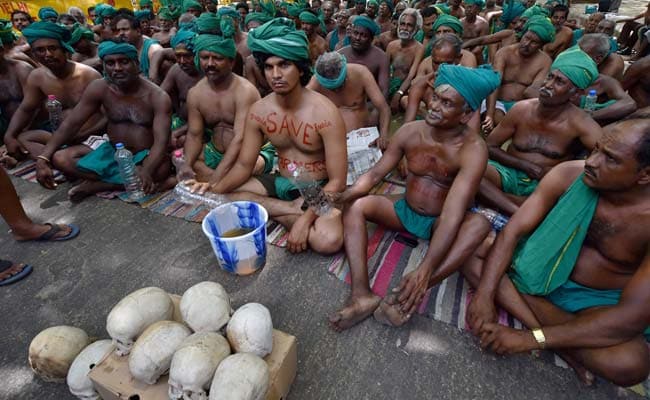 New Delhi:
A group of Tamil Nadu farmers who got the nation's attention with their unique way of protest at Jantar Mantar in New Delhi are planning to restart their agitation, albeit on a larger scale, this July.
Speaking to reporters in the national capital, farmers' leader P Ayyakkannu said the decision to hold agitation in New Delhi again was taken after the Tamil Nadu government failed to meet their demands.
"Even after the stipulated time, nothing has been done so far. We will come to Jantar Mantar to begin the agitation in first week of July," he said.
We will continue our protest till the Central government announces relief for farmers, he said.
Besides, the agrarian community, including those from Tamil Nadu, have set up a 10-member working committee to begin a nation-wide 'padyathra' demanding implementation of Swaminathan Committee report and providing better MSP (Minimum Support Price) for agricultural produces.
Mr Ayyakkannu, who attended the committee meeting in Delhi today, said the 'padyatra' will begin on July 6 from Mandsaur in Madhya Pradesh where five farmers were killed in police firing.
"Padyatra will begin from Mandsaur. Tamil Nadu farmers will also take part in the event," he said.
VM Singh, convenor of Rashtriya Kisan Mazdoor Sangathan, Jai Kisan Andolan chief Yogendra Yadav and representatives of Bharatiya Kisan Union and Kerala Kisan Sangathan took part in the meeting.