Highlights
Income Tax raids conducted at P Rama Mohana Rao's Chennai residence
Rao lives in Chennai's upscale Anna Nagar locality
Simultaneous raids conducted at 5.30 am at Rao's home, 7 other locations
Chennai:
Income Tax officials claim to have recovered nearly Rs 30 lakh in cash and five kilograms of gold during raids at the Chennai home and office of Tamil Nadu's topmost bureaucrat, Chief Secretary P Rama Mohana Rao and several other locations on Wednesday, according to Press Trust of India.

Simultaneous raids began at about 5:30 in the morning at the bureaucrat's official residence in the city's upscale Anna Nagar locality and seven other locations, including at homes of his son Vivek Rao and some relatives in Chennai and Chittoor in neighbouring Andhra Pradesh, IT sources said.
Income Tax officials said the raids that ended this morning were linked to a tax evasion investigation against Mr Rao's son Vivek.
Earlier this month, taxmen found over 100 kg of gold, Rs 96 crore in banned 500- and 1,000-rupee notes and Rs 34 crore in new currency notes in raids at the homes of three Tamil Nadu businessmen, one of whom, J Sekhar Reddy, allegedly has business links with the Chief Secretary's son. Mr Reddy was arrested today.

Sources said documents found at Mr Reddy's house may have led to the raids today, which took place even as Chief Minister O Panneerselvam was in Delhi to meet Prime Minister Narendra Modi and seek central aid for the state to help repair the damage caused by the cyclone that hit Tamil Nadu last week.

MK Stalin leader of main Opposition party DMK, said the "unprecedented" raids had "brought shame for Tamil Nadu." Mr Stalin said, "Corrupt officers and those behind them shouldn't be allowed to escape."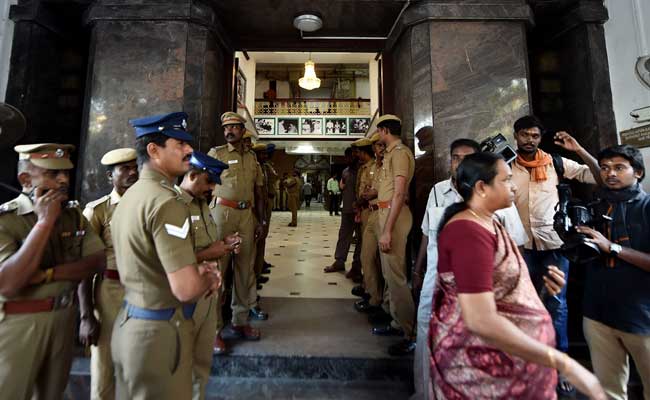 P Rama Mohana Rao, a 1985 batch officer, took over as Chief Secretary in June this year. He was earlier posted in the Chief Minister's office and is seen as an officer with much political influence.
Mr Rao is said to have played an important role in J Jayalalithaa's companion Sasikala Natarajan coming to the forefront of politics in the state after the former chief minister died in hospital earlier this month.
Ms Natarajan has been asked by the ruling AIADMK to take over as party chief. She is also believed to have been aided by Mr Rao in the swift selection of Mr Panneerselvam as chief minister.
Mr Panneerselvam or OPS as he is known, was sworn in in a midnight oath ceremony hours after Ms Jayalalithaa's death.
(with inputs from PTI)