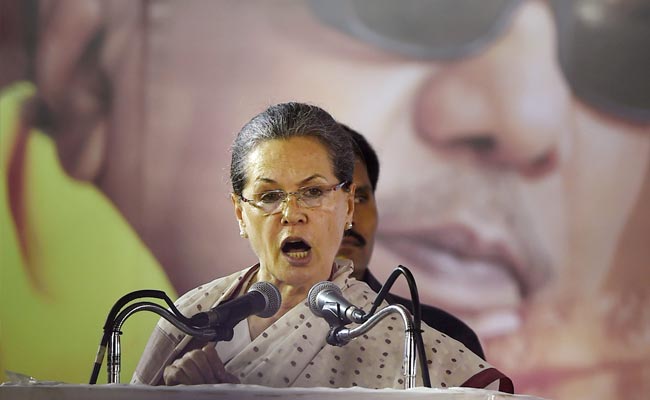 Chennai:
Hitting the campaign trail in Tamil Nadu, Congress President Sonia Gandhi today slammed AIADMK government for alleged "inaction" during the devastating Chennai floods last December and for supporting in Parliament the Modi regime despite its failure to help Tamil Nadu.
"At that time of suffering, did your government come forward with help, did the AIADMK come and wipe your tears, did they care to extend helping hand to you, did they bother to reach you and provide relief that you so badly needed?" she asked, referring to the unprecedented deluge in the city and elsewhere in the state caused by torrential rains.
She said it was not the government, it was not the AIADMK but the people who helped one another during "the long hours of fear and distress."
"I salute the people of Chennai and Tamil Nadu for their courage and resilience," she said at the well-attended rally in which DMK chief Karunanidhi and leaders of other alliance parties were present.
Mrs Gandhi alleged that Union Finance Minister Arun Jaitley had assured people that insurance claims will be settled in four weeks but now four months had lapsed and no such thing happened.
"The Modi government has reduced funds for crucial social welfare and rural development programmes for schemes meant for welfare of Scheduled Castes, Scheduled Tribes for women and children. Yet the AIADMK does not protest and continues to support Modi government in Parliament in Delhi," she said.
She also said farmers were not getting water and people were hit by drinking water scarcity yet "both Modi and AIADMK government have not come to your help."
The Congress chief alleged that development in Tamil Nadu has "virtually come to an end. Farmers were pushed to suicide and handloom industry which sustained lakhs and lakhs of weavers was under acute stress making it "difficult for their families to feed their children and support family."