Chennai:
Highlights
Rajinikanth said is hopeful of drawing disillusioned cadre from parties
A lakh-and-a-half fan clubs with 25 members each was estimated
After announcing political entry, Rajinikanth launched a website and app
Sandhya, a public relations professional, is not a Rajinikanth fan. However, now she has made up her mind to vote for him if his party would contest in the next assembly polls.
In the past elections, she said, she chose between the DMK and AIADMK. For her, Tamil Nadu politics is all about 2 Cs - Caste and Corruption.
With the death of Jayalalithaa and DMK chief Karunanidhi not active, she believes Rajinikanth would perfectly fill in that space. Sandhya said, "He's positioning to fill up a political vacuum. Why not give him a chance?"
Like her, S Shriram, an entrepreneur who earlier backed actor Vijaykanth, is now rooting for the superstar. His reason: Rajinikanth's promise of a "spiritual government". He said, "His promise of spiritual government is interesting. It's important as we are losing our roots. He has promised to leave in three years if he doesn't perform. That requires guts."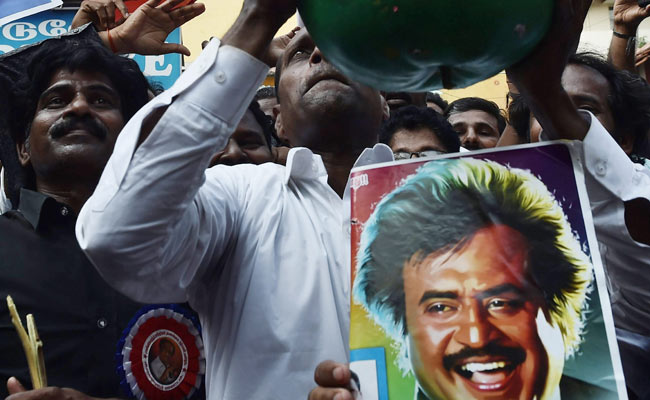 With his new website and mobile app team, Rajinikanth said he is hopeful of drawing disillusioned cadre from other parties in addition to an estimated a lakh-and-a-half fan clubs with 25 members each.
On Tuesday, the 67-year-old actor clarified what he meant by "spiritual government" amid speculation it meant an alliance with the BJP. Rajinikanth said, "Spiritual government means a pure government that doesn't discriminate on the lines of caste, creed or religion."
While filmstars from the Tamil Nadu film industry MGR and Jayalalithaa have been very successful as Chief Ministers, both the ruling AIADMK and opposition DMK say they don't anticipate an exodus of their cadre.
In the past, Tamil Nadu has dumped popular actor Sivaji Ganesan. However, in 1996 it was Rajnikanth's statement that "even God can't save Tamil Nadu" if Jayalalithaa gets a second term helped the DMK-TMC combine to sweep the polls.
With Rajinikanth himself in the political arena, clearly there are reasons for the Dravidian arch rivals to worry.
Get Breaking news, live coverage, and Latest News from India and around the world on NDTV.com. Catch all the Live TV action on NDTV 24x7 and NDTV India. Like us on Facebook or follow us on Twitter and Instagram for latest news and live news updates.