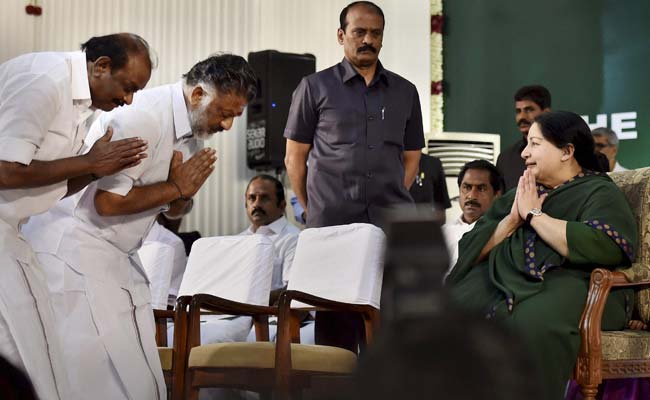 Chennai:
It is a working Sunday for
J Jayalalithaa
who took oath as the chief minister of Tamil Nadu for the fifth time yesterday. Ms Jayalalithaa reached the Secretariat a little after 3 pm where government employees welcomed her.
On the first day of work, the chief minister is expected to launch a chain of Amma Canteens - the low-cost eateries - across the state through video-conferencing. She will also open a police headquarters and new vehicles for various government departments.
The Opposition has accused O Panneerselvam, who replaced Ms Jayalalithaa as the chief minister, of failing to run the government properly. Not only was there a policy paralysis during his tenure, governance also became a casualty, the Opposition has said.
Mr Panneerselvam postponed the much-awaited global investors' meeting, reportedly waiting for Ms Jayalalithaa; the Chennai Metro, which was cleared during the previous DMK regime, is yet to begin operation.
"The fall began much earlier and the state has gone behind many states in development," DMK leader TKS Elangovan said.
Ms Jayalalithaa, one of the country's most powerful politicians, returned on Saturday as chief minister of Tamil Nadu, less than a fortnight after the Karnataka High Court a court acquitted her in a corruption case.
The packed venue of Madras University
erupted in cheers as Ms Jayalalithaa,
draped in an emerald green sari
, took an oath in Tamil while her 28 cabinet ministers of the AIADMK stood behind her on the stage. Later, they all took oath at one go, as their party chief clapped.
Pon Radhakrishnan of the BJP attended the oath ceremony on Saturday. Prime Minister Narendra Modi and Finance Minister Arun Jaitley congratulated her. "I want to congratulate the Chief Minister of Tamil Nadu. We wish her all the best," Mr Jaitley said in Delhi.
Jayalalithaa Jayaram, a former film star
, was forced to stand down as chief minister of prosperous Tamil Nadu after being found guilty last September of amassing illegal wealth while in office. The 67-year-old was sentenced to four years in prison and fined Rs 100 crore in a case that progressed through court for nearly two decades. But earlier this month, the higher court cleared her of corruption charges.