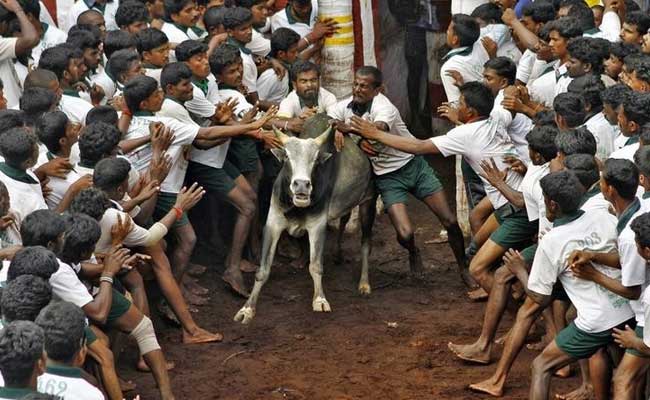 Highlights
Jallikattu, bull-taming sport, cleared by new Tamil Nadu law
Lakhs demanded it be allowed, citing importance to Tamil culture
Animal rights activists challenge the new law in top court
New Delhi:
Jallikattu must be banned, the Supreme Court has been told, in a new challenge to the bull-taming sport, which saw lakhs of supporters campaigning over the last week to demand that it be allowed in keeping with Tamil culture.
Two days ago, Tamil Nadu
passed a new law
that allows the sport which is performed during the 4-day harvest festival of Pongal. The law circumvents a ban on Jallikattu declared in 2014 by the Supreme Court which found that it tortures bulls and has been challenged by animal rights activists, whose case will be heard on Monday.
Earlier this month, Pongal was celebrated with small groups across the state defying the ban to hold local Jallikattu competitions, which see young men trying to ride a bull in an open field - whoever survives three jumps by the bull while holding onto its hump wins. Hundreds of participants and organisers were arrested, leading to a massive and impassioned response from students, who deftly used social media to rally support. They turned Marina Beach in Chennai into their headquarters, leading a well-organised and apolitical demonstration that saw thousands converging on the landmark to ask for legislation on the resumption of Jallikattu that would withstand legal challenges from animal rights activists, who say bulls are tortured and abused in the sport.
On Tuesday, the
Marina Beach sit-in
, which had won national recognition for its spirit of peaceful protest, turned violent. Nearly 50 police vehicles were set on fire, a police station was burnt, and major roads and highways were blocked, leaving commuters including young students stranded. Student leaders said they were ending their campaign because the new law had been cleared by the Tamil Nadu legislature. Then videos of policemen resorting to arson and vandalism surfaced on social media. Top state personalities like
Kamal Haasan and Arvind Swami tweeted the videos
, demanding that the police explain whether its members had rampaged to intimidate protestors into dispersing.
The police first said the videos were doctored and then said they will be investigated.