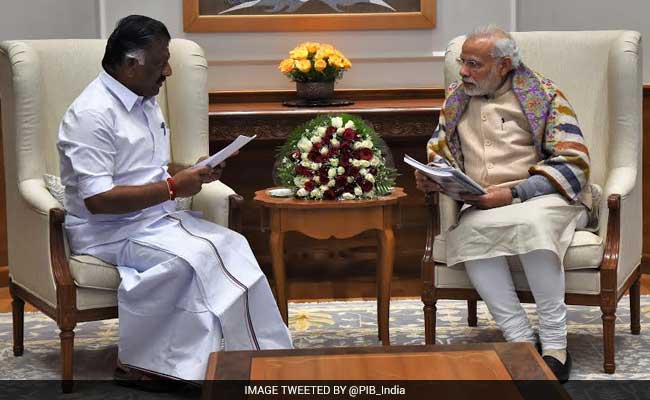 Highlights
The two factions of the AIADMK party merged in 2017
O Panneerselvam said PM Modi had advised him to merge his faction
OPS underlined he became a minister on PM Modi's advice
Chennai:
Tamil Nadu Deputy Chief Minister O Panneerselvam has confirmed
a long-speculated role played by Prime Minister Narendra Modi
and the BJP in the days
ahead of his decision to merge his faction with the one
led by Chief Minister E Palaniswami in August last year.
O Panneerselvam, also known as OPS, told his supporters in Theni, near Periyakulam constituency, 500 km from Chennai, that it was on PM Modi's advice that he had agreed to merge the two faction of AIADMK and join the government as the Chief Minister Edappadi Palaniswami's deputy.
Mr Panneerselvam had met PM Modi days before the merger was sealed in August 2017. His camp had then insisted the meeting wasn't about the unification of the two factions though OPS had said after emerging from the meeting that they had discussed the running of the government in Tamil Nadu.
But PM Modi was among those who congratulated "O Panneerselvam and others" when he was sworn-in as Deputy Chief Minister. PM Modi had then also promised "all possible support to CM Thiru Edappadi K Palaniswami & Dy CM Thiru O Panneerselvam for the growth of TN".
The provocation for Mr Panneerselvam to go public about his private conversation with PM Modi last year is being speculated.
There has been talk of OPS being sidelined in the government and the perception is that the man who launched a `dharmayudhdhm' in February last year by rebelling against Sasikala, had lost aura and credibility by joining the government. This could be his attempt to regain some of that lost stature by publicly declaring that he had not hankered after power or ministerial berth.
There are also indications that attempts are being made for a possible realignment within the ruling AIADMK and reaching out to `rebel' disqualified MLAs if the government's survival is jeopardised. The Madras High Court last month reserved its verdict on the status of 18 disqualified AIADMK lawmakers loyal to sidelined AIADMK leader TTV Dhinakaran.
If the court cancels their disqualification, the survival of the AIADMK government in its present form would be at risk. One possibility that is being widely speculated involves the return of TTV Dhinakaran back into the party, and sidelining OPS.
Senior AIADMK leader D Jayakumar did not comment on the Deputy Chief Minister's revelations, saying these could have been made during a one-on-one between PM Modi and OPS.
Mr Panneerselvam told supporters on Friday about this conversation and the nudge to merge the two AIADMK's factions.
"He (Modi) said that you (Panneerselvam) could join (merge the faction) to save the party and under the present circumstances, the two [factions] should merge to save the party," Mr Panneerselvam said.
"I agreed but said that I will not become a minister and will only take party position. The PM said 'no no, you should be a minister and continue with politics... and that is why I am a minister today," he said.
"I had no desire to be a minister. Amma (Jayalalithaa) made me MLA four times and chief minister twice. That honour itself is enough for me," he said.
The third time that OPS became Chief Minister was after J Jayalalithaa died in December 2016. But it was VK Sasikala, the AIADMK matriarch's companion, who had appointed him Chief Minister while she took control of the party. She, however, forced him to quit in February last year with a plan to take over as Chief Minister.
OPS initially complied but later surprisingly, led a rebellion against her. Then Governor C Vidyasagar Rao stalled her swearing-in as Chief Minister till the Supreme Court delivered its verdict in the corruption case, sending her to a Bengaluru jail instead. E Palaniswami was quickly installed as the Chief Minister and was the target of attacks from the OPS camp.
But Palaniswami camp started moving away from TTV Dhinakaran, installed by her aunt Sasikala as the party's number two. The tax department raids targeting AIADMK ministers - when it found alleged evidence that voters were being bribed to ensure TTV Dhinakaran's win - was widely seen to have accelerated this shift.