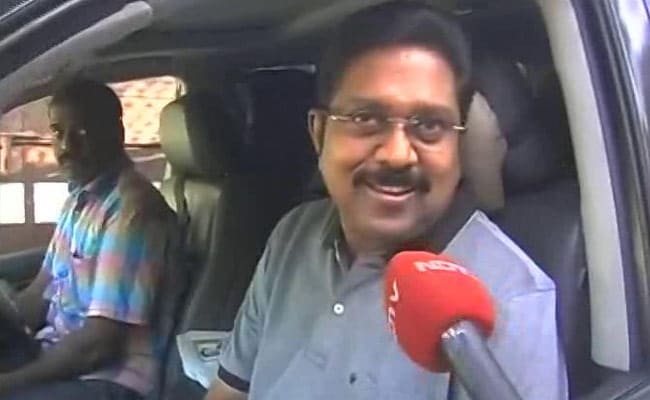 Highlights
TTV Dhinakaran claims more support within AIADMK
He called hidden support within the party as 'Sleeper Cells'
Mr Dhinakaran and his aunt, VK Sasikala, have the support of 21 MLAs
Chennai:
TTV Dhinakaran, who is leading a rebel faction of Tamil Nadu's ruling AIADMK, today warned that he has far more support within the party than is known and Chief Minister E Palaniswami should take note of it and step down. Mr Dhinakaran and his aunt, jailed leader VK Sasikala, are known to have the support of 21 lawmakers,
19 of whom have been sequestered at a hotel in Puducherry
for the last two weeks to keep them away from the influence of EPS, as the Chief Minister is popularly known.
Calling the hidden support within the party "sleeper cells" -- a term used more in the context of terrorism -- he said, "Many MLAs will start supporting us one by one... We are giving time to EPS to step down". While TTV Dhinakaran has
repeatedly claimed that he is not out to pull down Mr Palaniswami's government
, the comment is seen as a threat.
The stance of Mr Dhinakaran - who is trying to claw back to the position of the party number 2 his aunt placed him in before going to jail -- come ahead of the General Council meeting called by the party. The meeting, expected to discuss the expulsion of Ms Sasikala, is being held after rivals EPS and O Panneerselvam joined hands after months of hard negotiations.
Calling the
General Council
of the united AIADMK "illegal", TTV Dhinakaran today said, "Only Sasikala can convene AIADMK General Council".
Mr Dhinakaran had been sidelined by the Chief Minister soon after Sasikala went to jail. After the merger, Mr Pannerselvam - how preceded Mr Palaniswami as the state's Chief Minister, has been named his deputy. To make the transition less awkward, he has been given charge of the party - effectively cutting out a possibility of the return of Mr Dhinakaran.
The expulsion of Ms Sasikala -- who took charge of the party after the death of then Chief Minister Jayalalithaa in December -- was one of preconditions of OPS, as Mr Panneerselvam is popularly known.
Within hours of the merger announcement last week, Mr Dhinakaran struck. The rebels loyal to him claimed they were against the expulsion. The next day, they met Governor C Vidyasagar Rao and demanded that the Chief Minister step down. They have accused him "betraying" Ms Sasikala.
The united AIADMK has 134 legislators in the 234-member house - 16 more than the 118 needed for majority. A rebellion by the Sasikala supporters will take his numbers below the half-way mark.