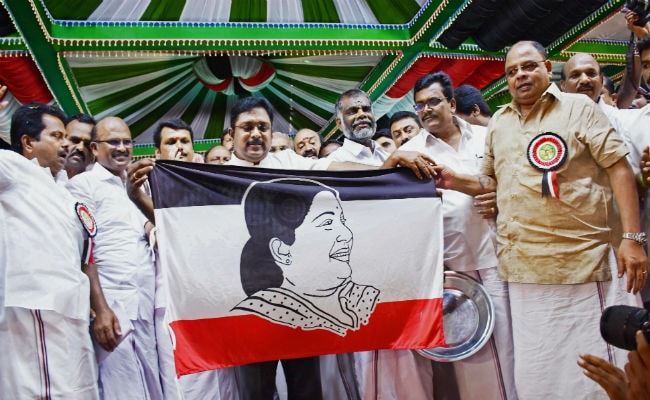 Chennai:
TTV Dhinakaran, the nephew of VK Sasikala, will not get the pressure cooker symbol for his party, the AMMK (Amma Makkal Munnetra Kazhagam). Instead, the Supreme Court ordered the Delhi High Court today to take a decision on who should get the two leaves symbol of the AIADMK, seen as a part of the legacy of its iconic leader, J Jayalalithaa.
The court has given a month's time to the High Court to dispose of the case. In case the High Court cannot take a call, the decision will be taken by the Election Commission, the top court said.
Intense battle has been fought over the two leaves symbol since the death of Jayalalithaa in December 2016 triggered a tumultuous power struggle within the party.
Mr Dhinakaran -- who was number 2 in the party -- vied for the symbol first against the breakaway O Panneerselvam faction. Then he wanted it for his own faction after he was thrown out of the party with his aunt VK Sasikala and the Paneerselvam faction merged with the much larger group led by Chief Minister E Palaniswami.
Both sides claimed it as their own, each contending that it was the "real" AIADMK.
Mr Dhinakaran has been unable to make any headway over his demand. But the leader, who fractured the AIADMK, pushing 18 lawmakers to rebel against the party leadership, had swept the by-election in Chennai's RK Nagar, the prestigious seat held by Jayalalithaa, in December 2017.
Three months after the victory, he launched the "Amma Makkal Munetra Kazhagam".
In March, the high court, in an interim order, had asked the Election Commission to allot a symbol and name to Mr Dhinakaran's party. But the top court said the high court should decide on the main issue by April and stayed its order allowing the "pressure cooker" symbol to Mr Dhinakaran's party.
Earlier this month, Mr Dhinakaran had moved the Supreme Court again, asking that the Election Commission be ordered to allow his party to use the "pressure cooker" symbol for the coming Lok Sabha election.
The Election Commission had told the top court that no symbol cannot be allotted to Mr Dhinakaran's party since it is not registered.