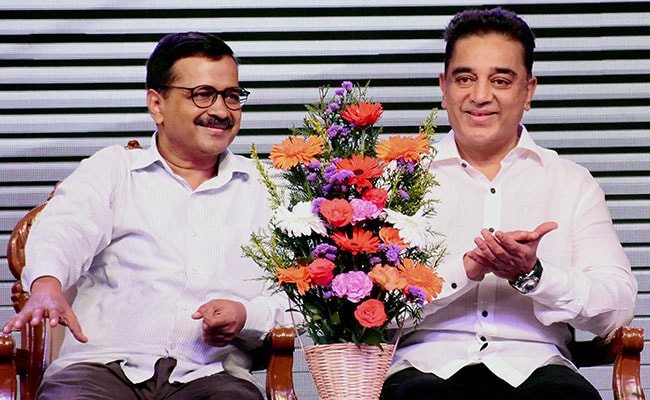 Madurai:
As superstar
Kamal Haasan took the plunge into politics
on Wednesday,
announcing his party
"Makkal Needhi Maiam" the special guest for the event was Arvind Kejriwal, seen as an expert in start-up political parties. The Delhi Chief Minister, whose Aam Aadmi Party swept to power in Delhi in 2015, just three years after its inception, flew down to Madurai for the event and shared stage with Kamal Haasan.
Calling himself a big fan of the actor, Mr Kejriwal said Mr Haasan was a "real life hero" who offered the people of Tamil Nadu a "political alternative".
Without naming AIADMK and the DMK, which have dominated Tamil Nadu's political space for decades, Mr Kejriwal said the people of the state now had an option. "I congratulate his (Kamal Haasan's) team for this great political alternative," he said.
The people of Delhi were in a similar situation, but when they found an alternative, they went for it, said the leader whose AAP emerged as the second largest party in the 2013 assembly elections. Two years later, AAP came to power with 67 seats in the 70-member assembly after Mr Kejriwal apologized to the people of Delhi for resigning after 49 days in the top post in 2013.
Conveying his "heartfelt wishes" to Kamal Haasan, Mr Kejriwal said, "People of Delhi voted for 67 seats. It is the chance for Tamil Nadu to break this record."
Mr Haasan announced his intention to join politics last year when Tamil Nadu was facing a political vacuum after the death of its iconic leader, the ruling AIADMK's J Jayalalithaa. After carrying out prolonged arguments with various AIADMK leaders and ministers on social media, Mr Haasan declared that he would form his own party. But he took his time, consulting various political leaders and getting feedback from the people.
Kamal Haasan, Mr Kejriwal said on Wednesday, was not just honest, but has a great vision. "I admire his courage the most. He has the courage to speak against injustice and communal forces. Earlier I was a fan of Kamal as a film person. Today I am fan of Kamal as a real life hero," the Delhi Chief Minister added.