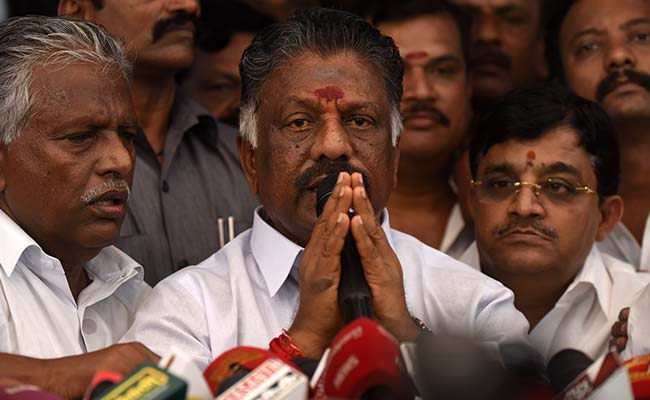 Chennai:
The ruling AIADMK today lashed out at the critics of five decades of Dravidian rule in Tamil Nadu, stating that such a rule had ensured the southern state's progress in various social sectors in the last 50 years.
Presenting the state budget for 2018-19, AIADMK coordinator and Deputy Chief Minister O Panneerselvam said certain critics with "myopic vision" were indulging in "fallacious propaganda" against the Dravidian rule.
DMK founder and late chief minister C N Annadurai heralded the first Dravidian government in Tamil Nadu in 1967, unseating the then Congress regime.
Ever since, only the two Dravidian arch rivals DMK and AIADMK have been ruling the state.
Though Mr Panneerselvam did not specify any "critic" of the Dravidian rule, he said he wanted to "send a strong message" that Tamil Nadu had progressed much more than many other states.
He compared the state with BJP-ruled states like Gujarat and Rajasthan to drive home the point that Tamil Nadu stood better in many social indicators.
The state has bettered on its below the poverty line (BPL) numbers, and fared better than many states, he said.
While the percentage of persons living below poverty line in Tamil Nadu in 1973-74 was 54.94, it has come down to 11.28 per cent in 2011-12 as per the National Sample Survey, Mr Panneerselvam said.
The national average in 2011-12 was 21.92 per cent as against the 54.88 per cent in 1973-74, he added.
"During the same period, this percentage came down from 48.15 to 16.63 in Gujarat, 54.47 to 20.90 in Karnataka, 61.78 to 31.65 in Madhya Pradesh, 53.24 to 17.35 in Maharashtra, 46.14 to 14.71 in Rajasthan, 57.07 to 29.43 in Uttar Pradesh and 63.43 to 19.98 in West Bengal," Mr Panneerselvam said.
Further, Tamil Nadu's per capita income at current prices exceeded the national average, he said
In a recent NITI Aayog publication, Tamil Nadu stood at third place among all states in the country in health indicators, he said, adding, even in terms of GDP, the state has bettered its rank from No 5 in the 1950s to "the second largest economy" at present.
"All these achievements have been made possible by the social equity agenda provided by the Dravidian movement, without much patronage from the successive central governments, while such patronage has been extended to many other states," he said.
"It is very clearly evident that we have grown on our own efforts and strength. Such political critics should understand that Tamil Nadu is the crucible of socio-economic transformation, which others must emulate," he said.
The AIADMK, founded by late M G Ramachandran and taken forward by his protege, late J Jayalalithaa, has contributed to this enormous growth, Mr Panneerselvam added.