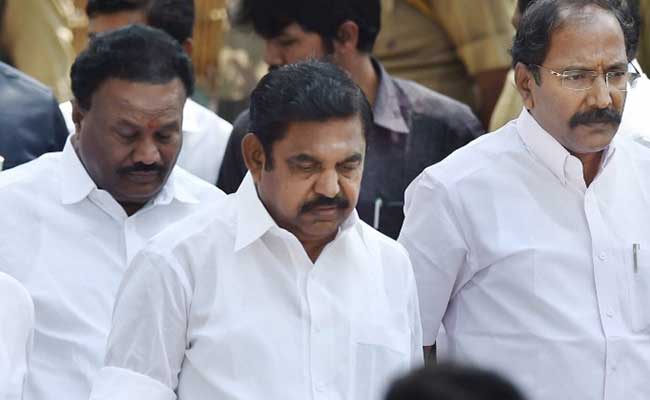 Highlights
AIADMK factions trying to negotiate merger after months of fighting
OPS camp toughens stand following 'loose statements' by other side
EPS camp apparently hinted it's not ready to forgo Chief Minister's post
Chennai:
Merger negotiations expected to begin at the ruling AIADMK's head office in Chennai this evening have again run into rough weather, with new tough talk by the faction led by former chief minister O Panneerselvam, provoked by what they described as "loose statements being made by leaders" of the rival camp of Chief Minister E Palaniswamy or EPS.
"The E Palaniswamy camp should exercise restraint after agreeing for talks," said KP Munusamy of Team OPS on Monday morning, adding, "They are confused... leaders make loose statements."
Mr Munusamy did not take names, but the reference clearly was to Finance Minister D Jayakumar's comments on Sunday, when he offered to give up his portfolios, seen as a signal that the ruling faction is not willing to give up the chief minister's post to facilitate a patch-up with the rival camp. Another minister had asserted, "The majority Edappadi K Palaniswamy government will complete its full term."
The OPS camp is sticking to its two pre-conditions for holding talks, which it says are non-negotiable. It wants a CBI investigation into former Chief Minister J Jayalalithaa's death and that jailed party chief VK Sasikala and her nephew and deputy TTV Dinakaran be thrown out.
The EPS camp has said Team OPS's demands are making it difficult to talk unity. Lawmaker R Vaithilingam said today that the Tamil Nadu government would order a probe into Ms Jayalalithaa's death if it is ordered by court, pointing out that Mr Panneerselvam could well have requested such an investigation when he was chief minister for weeks after the AIADMK's powerful leader died in December.
The EPS camp has also underscored that it has completely sidelined the jailed Ms Sasikala and Mr Dinakaran, thus meeting the rival faction's key demand.
Not enough, says Team OPS. Mr Munusamy pointed out today that a recent article in the ruling faction's magazine the Namadhu MGR, still talks about "strengthening the hands of Sasikala to run the party".
The effort for a re-merger stems from the need to retrieve the party's famous Two-Leaf symbol, suspended by the Election Commission after both factions staked claim to it. Crucial local body elections are expected to be held in Tamil Nadu in July and a divided AIADMK contesting without the symbol that lakhs of voters recognise as that of J Jaylalithaa or Amma will be at a severe disadvantage against chief rival the DMK.
But both factions want to ensure that they do not give up too much control of a united AIADMK. Seven members from each side will negotiate on tricky issues like whether Mr Palaniswamy will continue as Chief Minister or Mr Panneerselvam will return to the post he was forced to quit in February by Ms Sasikala. Both sides also want the party chief's post.
The AIADMK had split in February weeks after Ms Jayalalithaa, the AIADMK's sole leader died. Her closest companion of three decades VK Sasikala was made AIADMK General Secretary and soon attempted to become Chief Minister too, unseating Mr Panneerselvam.
OPS revolted and a wave of public opinion favoured him over Ms Sasikala. But he could not swing the support of more than a few of the party's lawmakers. Most backed Mr Palaniswamy, who was installed as a proxy chief minister by Ms Sasikala, whose chief ministerial hopes were dashed by the Supreme Court convicting her in a corruption case and ordering her to jail.