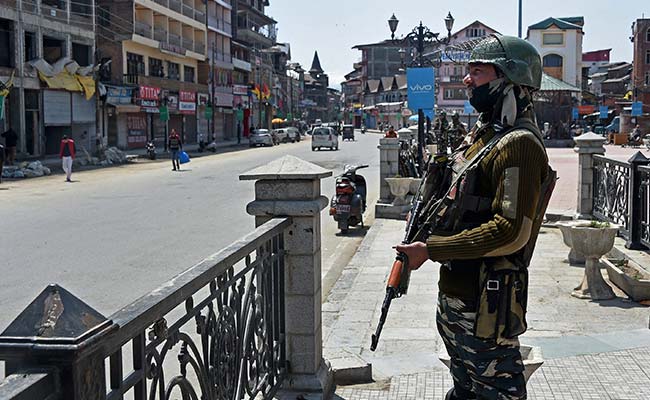 Highlights
Re-poll in 38 polling stations in Budgam today
National Conference asked the Election Commission to ensure fair polling
Separatists have called for a shutdown in Budgam
Srinagar:
Security has been tightened in the area by Election Commission in view of the re-poll in 38 polling stations of Srinagar Lok Sabha constituency today. All the polling stations are in Budgam district, the worst-hit by violence during by-polls on Sunday. Separatists have called for a shutdown in the area. "Syed Ali Shah Geelani, Mirwaiz Umar Farooq and Mohammad Yasin Malik have called for shutdown in poll-bound areas on April 13," the separatist groups said in a joint statement.
The election officials expressed confidence that adequate security arrangements have been made for today's re-polling.
"Adequate arrangements of security and videography have been made for re-polling at 38 polling stations in Budgam district of Srinagar Parliamentary Constituency," Chief Electoral Officer (CEO) J&K Shantmanu said today. Mr Shatmanu reviewed the arrangements for the re-poll at a high level meeting convened in Srinagar.
Opposition party National Conference also asked the Election Commission to take steps to ensure free and fair polling.
The EC has assured of fair elections. Mr Shantmanu said the poll process at the various stations will be video-graphed and one micro-observer from central government offices will also be deputed for each polling station where re-polling is being conducted.
During Sunday's polling, seven of the eight deaths in security forces' firing after rampaging mobs to streets in scores of places perpetrating violence took place in Budgam district, especially in areas where the EC yesterday ordered a re-poll.
The re-polling at the 38 polling stations in Budgam will begin at 7 am and will end at 4 pm, he added.
Only 7.14 per cent of the 12.61 lakh electorate cast their votes during the polling for by-election to Srinagar Lok Sabha constituency on Sunday amid large scale protests and violence around polling stations at dozens of places across the constituency.