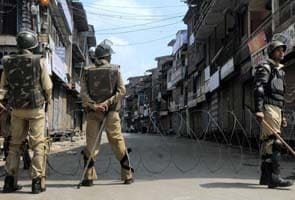 Srinagar:
Life across Kashmir has been disrupted today due to a strike called by separatists over gutting of the over 300-year-old Dastageer Sahib sufi shrine in Khanyar area of Srinagar.
Schools, colleges, offices, shops and other commercial establishments have remained closed due to the strike called by almost all separatist groups including both factions of Hurriyat Conference and the Jammu Kashmir Liberation Front (JKLF).
Public transport was off the roads across the Valley, while just few private vehicles could be seen on roads.
Attendance in government offices was thin as employees could not make it to their duty places due to lack of transport facilities.
Work in courts was also affected as Kashmir High Court Bar Association, the representative body of lawyers, has also called for a one-day strike.
Chief Minister Omar Abdullah who was outside the country, returned this morning and immediately visited the shrine. He appealed to people to maintain peace in view of what the shrine stood for.
The state government has ordered a probe by Divisional Commissioner, Kashmir, into the incident and also announced that the shrine will be reconstructed as per the old design.
The old city area witnessed violent protests yesterday after the blaze gutted the shrine and adjacent mosque. More than 50 persons including a dozen policemen were injured in the clashes.
Official sources said concertina wires have been used at many places to prevent people from pouring on the streets.
Additional policemen and CRPF personnel have been deployed in the old city and other vulnerable areas of the city like Maisuma to maintain law and order, the sources said.
Though eye witnesses say restrictions have been imposed on the movement of people, a police spokesman said there were no restriction anywhere in the Valley but additional forces deployed to maintain law and order.