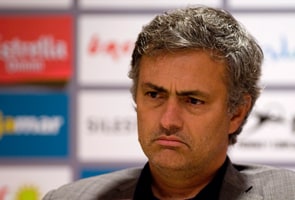 Madrid:
Real Madrid coach Jose Mourinho wants Manchester City's Togo striker Emmanuel Adebayor to replace the injured Gonzalo Higuain, Spanish newspapers reported on Tuesday.
The sports daily Marca also said efforts to sign Dutch forward Ruud Van Nistelrooy -- who left Real one year ago -- are now hampered by Hamburg's resistance to his departure from the German club.
Real Madrid are on the hunt for a new striker to replace the injured Higuain, who could be out for the rest of the season.
Marca said "Mourinho is insisting on Adebayor" who has "always been his priority."
It said the 26-year-old's transfer "would be very simple as Manchester don't want him any more" and the signing would "cost nothing."
Another sports newspaper, AS, also said Adebayor is Real's "new target."
But the papers also mentioned others names as alternatives, such as Manchester City's Carlos Tevez and Bayern Munich's Miroslav Klose.