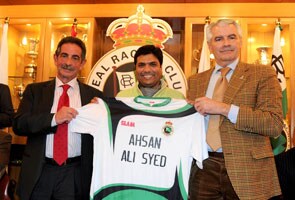 First Queens Park Rangers, then Blackburn Rovers and now Racing Santander - not quite members' of Europe's elite but that's 3 football clubs now that have an Indian connection - that after Racing was taken over by Bahrain-based Indian businessman Ahsan Ali Syed.
Steel magnate Laxmi Mittal only has a 40% stake in English side QPR. But Racing Santander and Blackburn Rovers are two clubs that are 100% owned by Indian businessmen.
We don't know much about Ahsan Ali Syed but we know that he's spent 200 crores to take over Spanish club Racing Santander.
The deal which was finalised this weekend came at a time when the Spanish side have debts of just over 800 crore.
"After studying various clubs around the world, I felt Racing were a very well managed club with a very long history and I personally felt with little investment and enhancement of the existing management, we could achieve a better standing in the La Liga," Ahsan Ali Syed said.
"I am not a magician. I am just a humble human being. What I would like to do is make my club recognised, seriously recognised in the football world, make the matches more and more entertaining and I would love to create a bridge between a European league and Indian League. I am an Indian first and a businessman 2nd," he added.
The Hyderabad-born businessman made headlines last year with a failed bid to buy Premier League club Blackburn Rovers. So was this a good enough consolation considering Racing have never won a major title?
Racing can't be considered part of Europe or even Spain's elite. They've never won a major trophy and a 2nd place finish in the Primera Liga in 1931 is the best effort to date.
Syed currently heads an investment & management company called 'Western Gulf Advisory' with offices in Bahrain & Switzerland
And he's already promised to invest over 500 crore into the club over the next 5 years.