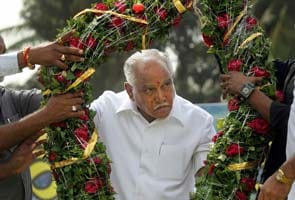 Bangalore:
BS Yeddyurappa was in tears this morning as he prepared to formally quit the BJP, his party of 40 years. The 70-year-old former Karnataka Chief Minister was at Bangalore's Freedom Park this morning, from where he dramatically walked a kilometre to the state assembly and handed his resignation to the Speaker as an MLA too.
His resignation from the membership of the BJP has been faxed to party president Nitin Gadkari's office.
The Lingayat strongman is quitting over what he calls "betrayal" by his party and will launch a regional party, the Karnataka Janata Party on December 9.
About 1500 to 2000 people gathered at the Freedom Park. Despite the BJP warning partymen that being seen with Mr Yeddyurappa will mean expulsion, four party MLAs and one MP are at the venue.
Mr Yeddyurappa has said that he will not rock the BJP government in Karnataka, though he claims that at least 50 the party's 121 MLAs are loyal to him. He says he has asked BJP ministers and MLAs loyal to him not to join his new party just yet. "They don't want me to continue in the party so I am resigning from posts. I am not asking anyone to resign, I am requesting supporting MLAs to not resign from the MLA posts. If they do, let party take disciplinary action," he said.
The BJP leadership is trying play down the impact of his exit. Chief Minister Jagadish Shettar met top leaders in Delhi and reportedly assured them that his government was safe, but the party is said to be keeping an eye on numbers in the Assembly. Karnataka votes in a few months.
The most influential leader in the powerful Lingayat community of Karnataka, Mr Yeddyurappa is credited with giving the BJP its first ever government in the south in 2007. "Honest workers supported me day and night in Karnataka to form government. We worked hard, got 33 per cent votes then. We had 19 MPs. They planned that I should quit, I tolerated all of it for one year. People were happy with me as a chief minister and I am confident of their support," Mr Yeddyurappa said.
The downward spiral began last year, when Mr Yeddyurappa was indicted by the state ombudsman in illegal mining cases. He had to step down as Chief Minister, walking in the rain to the Raj Bhawan to resign in another drama-filled moment. All his best efforts at political resurrection since then have come to naught with the BJP refusing to give in to his threats and strong-arm tactics.
Mr Yeddyurappa wanted reinstatement as Chief Minister. By the end of it, he would have been happy with being made state BJP president, but the party refused to give in. What has not helped Mr Yeddyurappa's cause is the multiple cases of corruption against him. He also faces a CBI investigation.
Mindful that Mr Yeddyurappa still wields enormous clout in the state's politics, the BJP has over the months attempted to accommodate some of his demands, even allowing him to select candidates for chief minister. But once Mr Yeddyurappa realised that his personal political demands would not be met he announced that he would leave the BJP. And then has waited for a propitious moment for the final annulment.