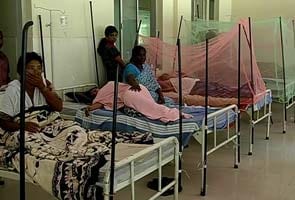 Thiruvananthapuram:
Anita Johnny, who is in her early 30s, was rushed to a hospital in Thiruvananthapuram at 3 am earlier this week after she complained of severe body ache. She now has been diagnosed with dengue.
Anita is among the 5801 confirmed cases of dengue from Kerala, the maximum in the country. Last year, only 1379 cases were reported till July. This year, over 3000 cases are from the state capital, Thiruvananthapuram, alone. 19 people have lost their lives in the state due to dengue.
Dr Faseelath Beevi, the Medical Superintendent of General Hospital, Thiruvananthapuram, however, says the cases reported in August have reduced. His hospital is now witnessing below 14 dengue patients each day this month; till July there were nearly 30 per day.
Two special wards have been created in the main tertiary care hospital to deal with the heavy inflow of dengue cases.
"Heavy rainfall and lack of waste disposal mechanisms are a major problem. All departments, corporations have to work in coordination with each other. It is not the health department's responsibility alone" he says.
A drive within the city shows tons of garbage disposed by the side of roads, which link major junctions in the capital city.
Sadanand (name changed on request), a businessman in his late 30s, with a huge pile on garbage on his scooter asks, "Where should we throw garbage. Can anyone tell us?"
Imported incinerators have failed to tackle the waste disposal problem. The sole waste treatment plant in Thiruvananthapuram has been closed for almost two years after allegations of mismanagement. The waste is currently being dumped at a place within the city.