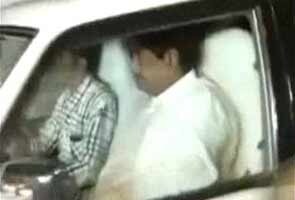 Hyderabad:
Two senior ministers in the Andhra Pradesh government, charged with corruption, have quit the cabinet. Home Minister P Sabita Indra Reddy and Roads and Buildings Minister Dharmana Prasada Rao had been named in chargesheets issued by the CBI in the Jaganmohan Reddy disproportionate assets case.
The two Andhra ministers, however, claim they have done no wrong. "We will be proved innocent," said Mr Rao, adding they resigned as "We need to respect the decision of the party high command."
"We have not personally benefitted from any of this. CBI has also not accused us of gaining personally. Only because business rules hold us accountable, we are being questioned," said Ms Reddy.
The party leadership was reportedly under pressure about dual standards in Delhi and in Hyderabad after two Central ministers smeared by scandal - Ashwani Kumar and Pawan Bansal - resigned recently.
On Sunday night, Chief Minister Kiran Kumar Reddy had conveyed to the two ministers that the Central leadership felt they should not continue as ministers after being named in chargesheets filed by the CBI.
Both the ministers, who had served in the Cabinet of Jaganmohan Reddy's father YS Rajasekhara Reddy (2004-09), have been accused of showing undue favours to companies which invested in Jaganmohan Reddy's business. Mr Rao's name came up in the Vanpic chargesheet filed in August last year and Ms Reddy was named an accused in the Dalmia Cements chargesheet filed on April 8.
The Congress government had been defending the ministers, saying they only implemented the decisions taken by the Cabinet and were not the beneficiaries of the controversial orders like allotment of lands, grant of licenses and leases to companies.
"They have done their bit as ministers as per procedure. There is no deviation from what a minister should do. As it is in court, let the courts decide," the chief minister had said.
For the Congress, the political fallout is the big worry. While the Opposition is claiming a victory and in fact demanding that these ministers should be arrested, the concern for the Congress is that three more senior ministers are likely to be named in future chargesheets to be filed by the CBI. The first minister named in this case who resigned, Mopidevi Venkatramana, has been in jail for the last one year.