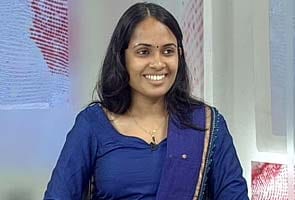 New Delhi:
Annies Kanmani Joy is no ordinary success story. The first nurse to qualify for the Indian Administrative Service (IAS) is a remarkable 26-year-old with an uncanny ability to make her dreams come true.
As she sits in her training institute animatedly discussing her dreams and prospects, it's easy to forget that the easy smile and a sunny demeanour mask a will of steel and a determination that's got her past stereotypes. Even as her batchmates head for cushy nursing jobs to foreign countries, Annies wants to serve her country.
Born and brought up in the little village of Pampakuda in the Ernakulam District of Kerala, Annies has barely stepped a foot out of her home state of Kerala. She completed her nursing degree from the Trivandrum Medical College, followed by a one year interning sting at the Government Medical College. In fact she says, her trip for training to Delhi, is the first time she actually 'crossed the tropic of cancer'. Ambitious from birth, the Kerala girl is eager to change all of that. Unlike most IAS officers she doesn't have a specific cadre preference. She could be happy anywhere.
However despite the unshakeable faith in her abilities, even Annies who calls herself 'totally a raw material' is a little stunned by her success. "I didn't know a nurse could sit for civil service examination", she breaks out with a laugh.
But once she did there was no looking back.
The 26-year-old nursing graduate from Kerala, who came 65th in the examination, was giving it a second shot. She finished at 580th position on her first attempt in 2010 and is currently undergoing training for the Indian Civil Accounts Service in Faridabad.
Annies' family is not surprised by the success.
"Work for her is like a prayer, a devotion. That's why she got IAS selection", says a beaming Johns Joy, Annies's cousin. Even as her mother Leela Joy sits, proudly poring over her daughter's record achievements. A picture of her being felicitated by the Kerala Chief Minister Oommen Chandy takes its place of pride at the top.
The entire town of Pampakuda seems to have joined in the celebrations. A reception is being planned for when Annies Kanmani Joy finally visits home.