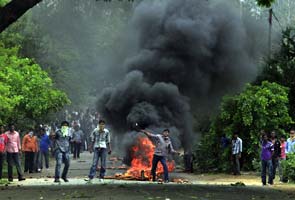 Hyderabad:
The Andhra Pradesh assembly was adjourned for the day on Thursday without transacting any business as the Telangana Rashtra Samithi (TRS) stalled the house, demanding a resolution to the Telangana issue by carving out a separate state.
Speaker N. Manohar adjourned the house twice earlier; the third adjournment was for the day, as TRS legislators surrounded his podium demanding that the house take up a debate on the Telangana issue.
Raising slogans of "Jai Telangana" and holding placards, TRS members did not allow the speaker to run the house after he rejected adjournment motions moved by TRS and other opposition parties.
The main opposition Telugu Desam Party (TDP), YSR Congress party, both the communist parties and Majlis-e-Ittehadul Muslimeen (MIM) wanted a debate on the power cuts and also on the Fuel Surcharge Adjustment (FSA) on electricity consumers.
As soon as the house met for the day, the opposition legislators were on their feet demanding that the house take up their adjournment motions. As the speaker announced that he was disallowing the adjournment motions, the TRS members rushed to the well of the house and sat there.
Repeated appeals by the speaker to the agitating members to return to their seats fell on deaf ears. Amid the din, he adjourned the house for one hour.
When the house re-assembled, the speaker moved a motion to condemn the February 21 terror attacks in Hyderabad.
After the two-minute silence, the TRS members resumed their protest, forcing the speaker to adjourn the house again for half an hour.
There was no change in the situation when the house re-assembled.
Manohar then adjourned the house till Friday.
The legislative council was also adjourned for the day as the opposition parties stalled proceedings, demanding that the government withdraw the Fuel Surcharge Adjustment (FSA) imposed on electricity consumers.
The TRS had also disrupted Governor E.S.L. Narasimhan's address to the joint session of the legislature Wednesday, the first day of the budget session.
The five-day monsoon session of the state assembly in September last year was also paralysed over the Telangana issue.