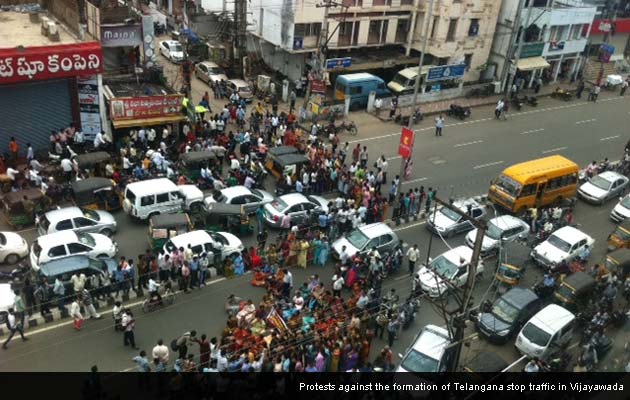 Vijayawada:
What does the formation of Telangana mean to Andhra Pradesh's commercial capital of Vijayawada?
The city, in the coastal Krishna district, is Andhra Pradesh's third largest after Hyderabad and Vishakhapatnam and is being talked about as a possible capital when, under the Congress' formula, common capital Hyderabad becomes a part of the new Telangana state and the other state has to look for its own capital city.
Vijayawada is relatively prosperous and the place of origin of thousands of NRIs. It is an education hub, has a flourishing automobile accessories industry and many car dealerships.
The region is also important in the prolific Telugu film industry - in terms of creativity, production and distribution. Its excellent road and rail connectivity have made it the biggest trading centre of Andhra Pradesh.
Vijayawada means the Land of Victory. But it lost one battle - the fight for Samaikhya Andhra or united Andhra Pradesh.
There have been protests across the city. A student here said, "We want a unified Andhra...We don't like broken pieces."
The reasons for disappointment are many. The eventual loss of the booming city of Hyderabad, concern over the supply of irrigation water from dams and power from generating stations in Telangana and a strong sentiment against the division of a Telugu speaking state.
"We are silent in Vijayawada not because we cannot protest. We are silent because we are emotionally destroyed. We are losing a part of us. Telangana is a part of us", a businesswoman said.
Hyderabad is a central issue. "All the people around the state have invested their time developing the city. So why is it that it is going away to only one side?" a student asked.
When the non-Telangana regions do get their own capital, Vijayawada will be in the running. M Muralikrishna, president of the Andhra Chamber of Commerce told NDTV, "Other than being a centrally located place, Vijayawada has a lot of infrastructural advantages to be the capital of new Andhra Pradesh."
Also, real estate prices have sky-rocketed; interest began to peak as the Telangana issue became hotter and people from the region, including NRIs from the district, looked at investments outside Hyderabad.
There are other cities that will stake claim - Vishakhapatnam is bigger. The Rayalseema region to the south will want the capital based there.
People here say they want a decision soon.
(Read the longer version of this report here)