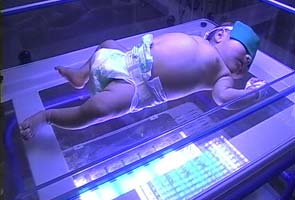 Chennai:
World's leading general medical journal has applauded Tamil Nadu's low-cost health care model that phenomenally reduced infant mortality and maternal mortality between 1980 and 2005.
According to The Lancet, before 1980, 44 newborn babies out of every thousand child births died in India. In twenty five years Tamil Nadu reduced it by 60 per cent, while the national average went down only by 45 per cent, and it cost the state government just one per cent of the GDP.
The two decade long programme began with establishing a network of more than 1,614 Primary Health Care Centres, and ensuring there is at least one in every block across the state. These were supported by district hospitals and medical college hospitals.
Maternal care cash assistance was introduced and the money was paid in parts at various stages between pregnancy and immunisation for the new born. This encouraged pregnant women to avail medical care.
Today, institutional delivery has touched 99 per cent and the maternal mortality rate has dipped from 319 to 111 for every lakh live births. Childbirth has turned a lot safer for women. Authorities say some tribal population and migrant population are yet to fully make use of the system.
Neo-natal care units and neo-natal ambulances have become a lifeline for underweight infants and premature babies. At the Kilpauk Medical College Hospital in Chennai, infants are also monitored by closed circuit cameras round the clock to ensure maximum care.
"Poor people like us can't spend money for private ambulances. Hiring an auto would cause delay. This ambulance has saved my child," says Ms Sasikala, whose baby was rushed to a Chennai hospital from Tiruvallur district in a neo-natal ambulance for medical treatment.
This multi-pronged approach by successive state governments is saving thousands of lives. The focus has now shifted from access to providing quality treatment at government hospitals, officials said.