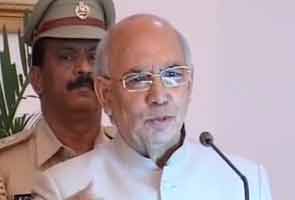 Bangalore:
Launching an indirect attack on former Chief Minister B S Yeddyurappa, Karnataka Governor HR Bhardwaj on Tuesday said he had spent 'sleepless nights' in the first three years of BJP rule as scams and misuse of power surfaced, but praised current Chief Minister Jagadish Shettar's rule.
"I couldn't get sound sleep even for a day in first three years of the BJP rule as issues scams and misuse of power rocked the state's political scenario," he told reporters at a function in Mysore.
Mr Bhardwaj said lately there was improvement in governance as corruption has come down. The government had also handled the drought issue well and law and order situation was good, he added.
Asked about the Mangalore homestay attack case, he said government had tackled it in the appropriate manner. "All the accused have been nabbed and are being prosecuted," he said.
On appointment of Lokayukta, a post which is lying vacant since September 2011, Mr Bhardwaj expressed confidence that government would propose the name of an honest person with an impeccable track record. "The government is serious about the issue and I discussed the issue with (Jagadish) Shettar two days ago," he said.
Mr Bhardwaj said he would approve the right person's name for the job "as Lokayukta is an important post to curb corruption."