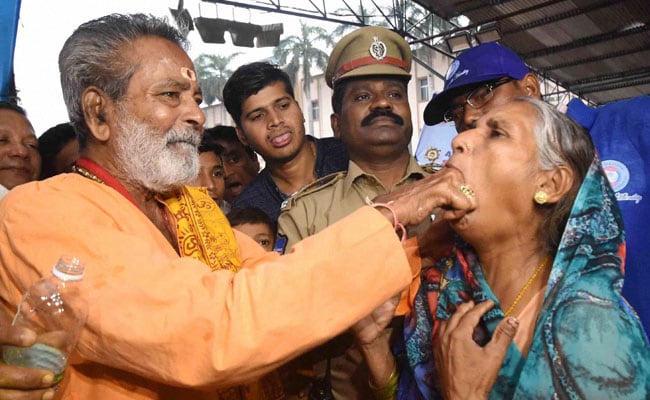 Hyderabad:
Thousands of asthma patients on Friday took 'fish
prasadam
' which has been traditionally distributed by a family since more than 170 years in Hyderabad.
People from Telangana, Andhra Pradesh and some other states queued up at Exhibition Grounds to take 'fish
prasadam
', a name that came into usage as a decade ago after rationalists challenged its efficacy.
​Members of Bathini Goud family started administering the 'wonder drug' at 9 am to mark '
Mrigasira Karti
', which marks the onset of monsoon.
The Telangana government made elaborate arrangements for the annual event. Minister for Animal Husbandry and Fisheries T. Srinivas Yadav along with Telangana Legislative Council Chairman Swamy Goud inaugurated the distribution.
Despite the controversies that affected the fish medicine's popularity over last few years, people continue to take it, seeking some respite from respiratory problems. However, the numbers have dwindled over the years.
People gulped down a live 'murrel' fish with a yellow herbal paste in its mouth, which is believed to provide the much-needed relief, if taken for three consecutive years. To vegetarians, the medicine with is administered with jaggery.
Bathini Harinath Goud said their family members were giving 'fish
prasadam
' at 40 counters and the distribution would continue till Saturday.
The Fisheries Department has supplied 1.30 lakh fingerlings for sale at its counters at the venue. However, the actual number of patients taking 'fish
prasadam
' could be less than a lakh.
Police, Greater Hyderabad Municipal Corporation, Hyderabad Metro Water Supply and Sewerage Board, Electricity, Transport and other departments made elaborate arrangements for the smooth conduct of the event.
Telangana State Road Transport Corporation (TSRTC) is operating over 130 special buses from airport, railway and bus stations to ferry asthma patients to the venue.
Various departments are providing water, sanitation and other basic amenities to the patients. Voluntary organizations have also chipped in by distributing free food and water packets.
The fish medicine lost its popularity in recent years after some groups, working to inculcate scientific temper among people, termed it as a fraud. They also approached a court, claiming the herbal paste contained heavy metals, which could cause serious health problems.
But the Goud family claims that tests conducted as per court orders revealed that the herbal paste is safe.
The Goud family has been distributing the 'fish
prasadam
' free of cost for the last 170 years. It claims that the secret formula for the herbal medicine was given to their ancestors in 1845 by a saint.